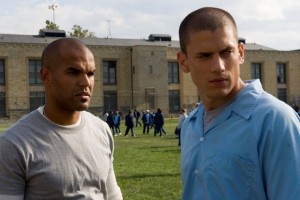 "Prison Break" Returns to television on Si TV weeknights at 10PM ET & PT beginning Monday, April 19. Pictured are series stars Amaury Nolasco (l) and Wentworth Miller as Sucre and Michael, plotting their escape from Fox River. (PRNewsFoto/Si TV) LOS ANGELES, CA UNITED STATES
Prison Break is a suspenseful drama that revolves around two brothers; one has been sentenced to death for a crime he did not commit, and the other devises an elaborate plan to help his brother escape prison. The series focuses Lincoln Burrows (played by Dominic Purcell), a death-row inmate who is accused of the murder of the vice president. Wentworth Miller stars as his brother Michael Schofield, an engineer who helped design the prison where Lincoln is being held. Michael gets himself arrested and sent to the same prison so, empowered with his knowledge of the building, the two brothers can escape together. However, while inside, Michael discovers a massive conspiracy that is determined to see Lincoln's sentence carried out.
The series also made a star of Latino actor Amaury Nolasco, who was twice-nominated by the National Council of La Raza's (NCLR) prestigious ALMA awards for his work on Prison Break. Nolasco portrays Fernando Sucre, Michael's complex cellmate.
The 81-episode series ran on the Fox Network from 2005-2009 and continues to have a huge on-line following as evidenced by its 1.5+ million fans on Facebook. In support of the series launch on Si TV, the network has built a robust, interactive site featuring video extras, games, photos and much more at www.sitv.com/prison-break.
About Si TV
Si TV is America's first media company to reach the millions of 18-34-year-old Latinos who prefer their content in English and seek it across all platforms — including linear television, the internet, video-on-demand and wireless devices. Si TV offers authentic, relevant content that includes Model Latina, Latino 101, and the first-ever Web-to-TV reality series Elle & Tito: The Married Life.
Si TV is available nationwide on Dish Network, and in more than 200 cities and communities across the United States, including New York, Los Angeles, Chicago, San Francisco / Bay Area, Dallas, Houston, Detroit, Denver, San Antonio and Las Vegas. For more information about Si TV, please visit www.sitv.com.
Photo: http://www.newscom.com/cgi-bin/prnh/20100414/NY86646
AP Archive: http://photoarchive.ap.org/
AP PhotoExpress Network: PRN11
PRN Photo Desk, photodesk@prnewswire.com
Source: Si TV
CONTACT: Kim Becker, +1-914-834-0422 or Mark Braff, +1-201-612-0707,
both for Si TV
Web Site: http://www.sitv.com/