7 Apr 2010 13:00 Africa/Lagos
'Rediscovering God In America II: Our Heritage' Wins at Garden State Film Festival
Gingrich Productions & Citizens United Receive 'Best Feature Length Documentary'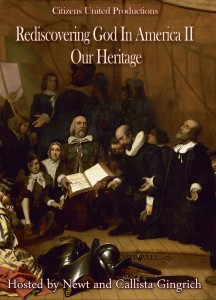 Rediscovering God in America II: Our Heritage, Washington, D.C., Gingrich Productions. (PRNewsFoto/Gingrich Productions) WASHINGTON, DC UNITED STATES
WASHINGTON, April 7 /PRNewswire-USNewswire/ — Rediscovering God in America II: Our Heritage, produced by Gingrich Productions, in partnership with Citizens United, has won "Best Feature Length Documentary" at the 2010 Garden State Film Festival on March 25-28 in Asbury Park, NJ.
(Photo: http://www.newscom.com/cgi-bin/prnh/20100407/DC82362)
Hosted by Newt and Callista Gingrich, Rediscovering God in America II: Our Heritage explores the role of religion in early America and the belief that "our Creator" is the source of our liberty, prosperity, and survival as an exceptional nation. From the first permanent English settlement at Jamestown in 1607, through the American Revolution, to the end of the Civil War in 1865, this film tells the story of the deep faith that motivated and sustained our great leaders, and dramatically presents our nation's belief in religious freedom.
"It is an honor for Rediscovering God in America II: Our Heritage to win at the Garden State Film Festival this year," said Callista Gingrich, President of Gingrich Productions. "Newt and I, along with our Producer Dave Bossie and Director Kevin Knoblock, are proud of this film and its message, and we thank the Festival for this wonderful distinction."
"The aspect of the film that won me over is that the documentary is a historical piece, not partisan or revisionist," said Nick Falcone, a member of the Festival's Board of Directors. "In speaking with audience members after the screening, people were unanimous that this film should be part of every school curriculum."
Gingrich Productions is a performance and production company featuring the work of Newt and Callista Gingrich. Based in Washington, D.C., Gingrich Productions provides talent for audio, video, and photographic productions. Together, Newt and Callista host and produce historical and public policy documentaries, write books, record audio books and voiceovers, produce photographic essays, and make television and radio appearances.
Citizens United is an organization dedicated to restoring our government to citizens' control. Through a combination of education, advocacy, and grass roots organization, Citizens United seeks to reassert the traditional American values of limited government, freedom of enterprise, strong families, and national sovereignty and security. Citizens United's goal is to restore the founding fathers' vision of a free nation, guided by the honesty, common sense, and good will of its citizens.
The Garden State Film Festival is an all-volunteer non-profit organization held each spring in Asbury Park, New Jersey. It was founded in 2002 to promote the art of filmmaking on all levels by showcasing a wide variety of film, video and animated works as well as provide educational programs in the creative arts to the public by industry leaders. The artistic philosophy of the Garden State Film Festival is rooted in the celebration of the independent film genre and the creation of a forum where local and other independent filmmakers can exhibit their work.
Photo: http://www.newscom.com/cgi-bin/prnh/20100407/DC82362
AP Archive: http://photoarchive.ap.org/
AP PhotoExpress Network: PRN2
PRN Photo Desk, photodesk@prnewswire.com
Source: Gingrich Productions
CONTACT: Michelle Selesky of Gingrich Productions, +1-202-587-5710,
mselesky@newt.org