Sleeping Beauty, starring Emily Browning, is one of 20 films up for the coverted Palme D'or.
© 2011 Reuters Entertainment

Bollywood actress Aishwarya Rai Bachchan arrives on the red carpet for the screening of the film "Sleeping Beauty", in competition at the 64th Cannes Film Festival, May 12, 2011. Twenty films are competing in the May 11 to 22 cinema showcase, with a roll call including major screen stars, revered "auteur" directors and relative newcomers. REUTERS/Vincent Kessler (FRANCE – Tags: ENTERTAINMENT)
The 64th Cannes Film Festival is in progress with the celebrated movie stars from Hollywood, Bollywood and other notable film industries from other countries participating and competing for the coveted prizes and other pursuits. Nigeria has a pavilion at the festival, but no Nollywood movie is in competition or even out of competition.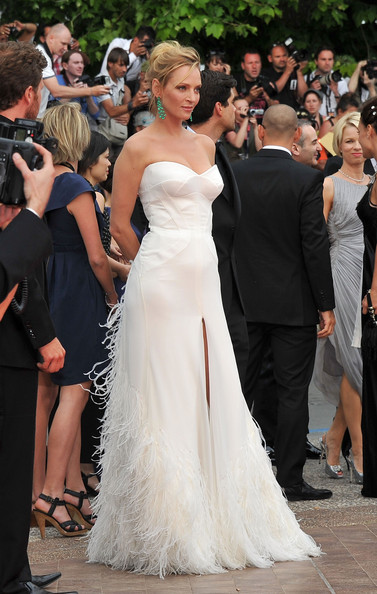 Jury Member Uma Thurman attends the Opening Ceremony at the Palais des Festivals during the 64th Cannes Film Festival on May 11, 2011 in Cannes, France. (Getty Images)more pics »
The galaxy of stars in attendance include the following:
Helena ALBERGARIA, Yvan ATTAL, Irene AZUELA, Antonio BANDERAS, Claude BAZ. MOUSSAWBAA, Berenice BEJO, Rachel BLAKE, Elodie BOUCHEZ, Adrien BRODY, Emily BROWNING, Claudia CARDINALE, Han CHIN, Kerry CONDON, Michael CONNORS, Ines DE LA FRESSANGE, Michel DELPECH, Catherine DENEUVE, Marat DESCARTES, Faye DUNAWAY, Kirsten DUNST, Christopher EDWARDS, Yilmaz ERDOGAN, Charlotte GAINSBOURG, Gael GARCIA BERNAL, Louis GARREL, Julie GAYET, Vahina GIOCANTE, Melanie GRIFFITH, Layla HAKIM, Salma HAYEK, Noe HERNANDEZ, Dustin HOFFMAN, Henry HOPPER, Angelina JOLIE, Sandrine KIBERLAIN, Diane KRUGER, Mélanie LAURENT, Xiaoran LI, Gong LI, Heinz LIEVEN, Vincent LINDON, Yvonne MAALOUF, Chiara MASTROIANNI, Rachel MCADAMS, Ezra MILLER, Aimee MULLINS, Ahmet MÜMTAZTAYLAN, Sami NACERI, Gilda NOMACCE, Antoinette NOUFAILY, Michel PICCOLI, Brad PITT, Adèle POLZL HAENEL, Aishwarya RAI, John C.REILLY, Ludivine SAGNIER, Riccardo SCAMARCIO, Léa SEYDOUX, Michael SHEEN, Stephanie SIGMAN, Tilda SWINTON, Christopher THOMPSON, Mia WASIKOWSKA, Lambert WILSON, Owen WILSON, José YENKUE, Elsa ZYLBERSTEIN.
You can follow the events from the opening day on 11th to the closing day on 22nd May.
Screenings of the 14h May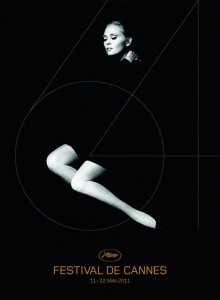 COMPETITION – Grand Théâtre Lumière
12pm / 9.45pm
HEARAT SHULAYIM
by Joseph Cedar 1h46
3.30pm
MICHAEL
by Markus Schleinzer
1h36
OUT OF COMPETITION – Grand Théâtre Lumière or Salle du Soixantième (S) or Salle Bunuel (Bu)
8.30am / 6.30pm
PIRATES OF THE CARIBBEAN : ON STRANGER TIDES
by Rob Marshall 2h17
2pm (S)
TOUS AU LARZAC
by Christian Rouaud
2h00
7.15pm (Bu)
MICHEL PETRUCCIANI
by Michael Radford
1h42
11.45pm
BOLLYWOOD – THE GREATEST LOVE S