The phenomenal multi-platinum and multi-award winning American country music and pop singer and actress Taylor Swift has become the American sweetheart of many entertainment and life style photographers who have fallen in love with her. The popular magazines have been competing to put her on the cover, making her the most sought after cover girl in 2010. The latest is COVERGIRL and on this occasion, she signed her first ever beauty contract.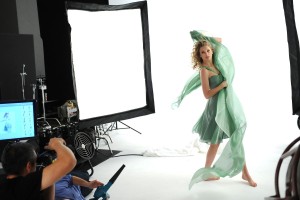 Taylor Swift strikes a pose on the set of her very first COVERGIRL print advertisement. (PRNewsFoto/Procter & Gamble) HUNT VALLEY, MD UNITED STATES
1 May 2010 04:41 Africa/Lagos
Easy, Breezy, Beautiful Taylor Swift Becomes Newest COVERGIRL
Platinum-Selling Artist Signs First Beauty Contract
HUNT VALLEY, Md., April 30 /PRNewswire/ — Multi-platinum singer-songwriter Taylor Swift can now add COVERGIRL to her list of accomplishments. The 20-year-old, GRAMMY award-winning star has just finished shooting her first advertisements for the beauty giant, and will represent a new line of luxury products for the brand. The ads are scheduled to debut in January 2011.
To view the multimedia assets associated with this release, please click: http://multivu.prnewswire.com/mnr/covergirl/43861/
(Photo: http://www.newscom.com/cgi-bin/prnh/20100430/MM96825 )
With millions of fans worldwide, Swift has achieved remarkable success since first entering the country music scene in 2006. To date she has sold more than thirteen million albums and is the top-selling digital artist in music history. Her second album, Fearless, has spent more weeks in the top spot on Billboard's all-genre Top 20 chart than any other album this decade. The GRAMMY Awards, the Country Music Association, the Academy of Country Music, and the American Music Awards all named Fearless the 2009 Country Album of the Year and, this year, the album won the all-genre GRAMMY Award for Album of the year. Last year, Swift earned the American Music Award for Artist of the Year and was the youngest artist ever to win the prestigious CMA Award for Entertainer of the Year.
"With her fresh beauty and authentic style, Taylor is a wonderful addition to the COVERGIRL family," said Vince Hudson, General Manager, COVERGIRL Cosmetics. "Through all her success, Taylor remains a grounded and sincere woman who connects with fans everywhere just by being true to who she is. She personifies the iconic image of the brand while representing the next generation of both inner and outer beauty."
"I am so excited to become the next COVERGIRL," said Swift. "I have admired many of the COVERGIRLs since I was a little girl . . . great artists and actresses who are confident and still themselves. It's like a dream come true to be a part of the future of COVERGIRL."
Since its introduction in 1961, the COVERGIRL brand has been a pioneer in celebrating women's inner and outer beauty, and their drive to look and be their best selves. The long list of famous COVERGIRLs has included Christie Brinkley, Cheryl Tiegs, Rachel Hunter, Tyra Banks, Niki Taylor and Molly Sims, and its current roster of COVERGIRLs includes the dynamic Queen Latifah, Ellen DeGeneres, Rihanna, and Drew Barrymore.
Visit www.covergirl.com for more information on COVERGIRL's family of spokeswomen and its extensive lineup of products for women of all ages.
About P&G Beauty & Grooming (NYSE:PG)
P&G Beauty & Grooming products help make beauty dreams real for women worldwide and help men look, feel and be their best everyday. With more than 100 brands available in nearly 130 countries, P&G's beauty and grooming products delivered sales of nearly $28 billion in fiscal year 2007/08 , making it one of the world's largest beauty and grooming companies. P&G Beauty & Grooming offers trusted brands with leading technology to meet the full complement of beauty and grooming needs, including Pantene®, Olay®, Head & Shoulders®, Max Factor®, Cover Girl®, DDF®, Frederic Fekkai®, Wellaflex®, Rejoice®, Sebastian Professional®, Herbal Essences®, Koleston®, Clairol Professional®, Nice 'n Easy®, Venus®, Gillette®, SK-II®, Wella Professionals®, Braun® and a leading Prestige Fragrance division that spans from point of market entry consumers to high end luxury with global brands such as Hugo Boss®, Lacoste®, and Christina Aguilera®. Please visit http://www.pg.com for the latest news and in-depth information about P&G (NYSE:PG) and its brands.
Photo: http://www.newscom.com/cgi-bin/prnh/20100430/MM96825
PRN Photo Desk, photodesk@prnewswire.com Video: http://multivu.prnewswire.com/mnr/covergirl/43861
Source: Procter & Gamble
CONTACT: Danae Danta, Marina Maher Communications, +1-212-485-6886
Web Site: http://www.covergirl.com/