I have not seen Tyler Perry's latest film Why Did I Get Married Too?, but it is attracting so much buzz online and offline since the weekend opening on April 2. It was second at the box office after the Clash of the Titans, grossing over $30,150,000 from 2155 theatres.
The romantic black comedy is all about relationships continued from the Why Did I Get Married? (2007).
Four American couples reunite for their annual vacation in the Bahamas and each couple did not come with only their luggage, but also with lots of baggage of their matrimonial ups and downs, pluses and minuses.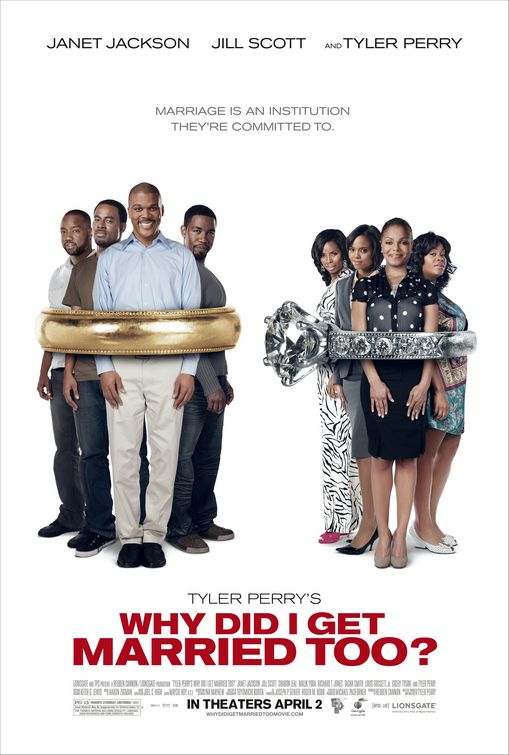 The movie is star studded with Janet Jackson who reprised her role as Patricia, Jill Scott who reprised the role of Sheila, Malik Yoba and the legendary Louis Gossett Jr and Cicely Tyson who is one of the greatest actresses of all time, and lest I forget, as usual Tyler Perry himself acted a major role as Terry.
~ By Ekenyerengozi Michael Chima
The Story
Gathered together in the Bahamas for their annual one-week reunion, four close couples eagerly reconnect, sharing news about their lives and relationships. But their intimate week in paradise is disrupted by the unexpected arrival of Sheila's ex-husband, Mike, who hopes to break up her new marriage with Troy and win her back. The others soon realize they too are not immune to the challenges of commitment and fidelity. Angela doesn't believe her husband, Marcus, can be faithful now that he's a celebrity television newscaster. Dianne and Terry's relationship is feeling the strain of raising children. And Patricia, a successful self-help psychologist, must finally reveal the deep flaws in her seemingly perfect marriage to Gavin. With their relationships hanging in the balance when they return home, each couple must choose between blame and forgiveness, doubt and faith, with life-altering consequences.