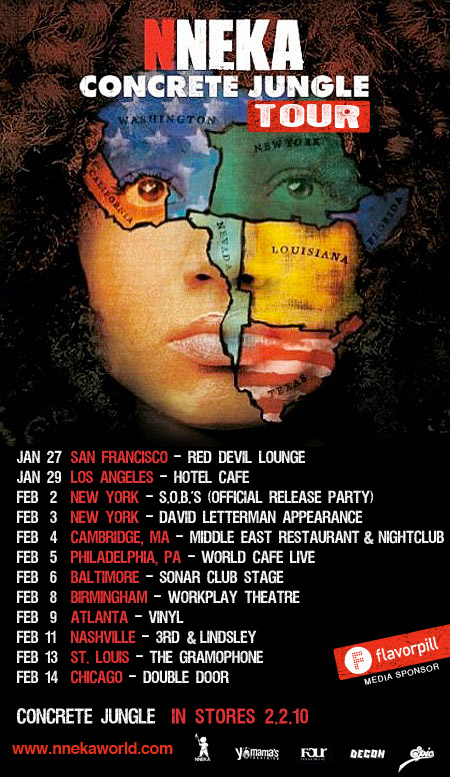 Nneka is 2010's First Breakout Artist to perform on "The Late Show with David Letterman" on February 3rd.
"…righteously bold and heartbreakingly fragile."
-SPIN, 10 To Watch in 2010
"Nneka…is pure hotness."
-Rolling Stone
Nneka had a successful US tour from January 27th to Valentine's Day. It was called the Concrete Jungle Tour and launched her stateside debut album that was released on February 2nd.
The tour took her to 14 cities across the US, including New York, Chicago, Atlanta and Los Angeles.
Nneka made her US late night television debut on "The Late Show with David Letterman," on February 3rd.
Rolling Stone selected her as an Artist to Watch in 2010, and her video for "The Uncomfortable Truth" has been getting regular spins on both BET and MTV.
Shot throughout the course of her recent November 2009 visit to the US, the Who Is Nneka? video is an intimate look at the artist.
"My main message is to wake people up," Nneka said. "To make them feel themselves; to make them feel their spirit; to be in touch with their innermost."
From the critical acclaim of her recent collaborative mixtape The Madness (Onye-Ala) with DJ and producer extraordinaire J.Period to her sold-out performances with The Roots in NYC, Nneka's certainly only just getting started.
"There's so much that I, myself, have to learn in my life…and there's still much that I do not know. At the same time I'm sharing my music with people, [I'm] learning from that sharing."
For more information or to interview Nneka, give us a ring!
Pam Nashel Leto (212) 989-2222 x 111 pam@Girlie.com
Kabeer Malhotra (212) 989-2222 x 123 kabeer@Girlie.com
Vickie Starr (212) 989-2222, x101 vickie@girlie.com
Alexandra Dunne (212) 833-5429 alexandra.dunne@sonymusic.com
www.myspace.com/nnekaworld