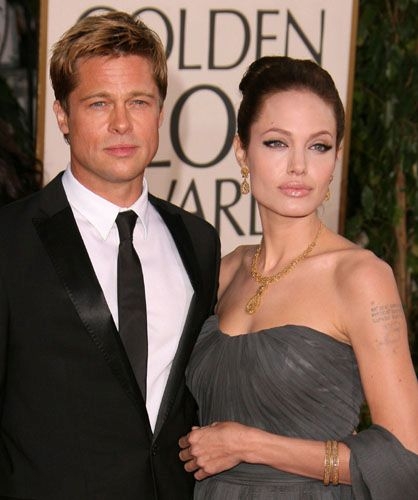 Jolie and Pitt Support American Foster Children With Grant of $100,000 for Christmas to American SOS Children's Villages
WASHINGTON, Dec. 24 /PRNewswire-USNewswire/ — SOS Children's Villages – USA today announced a gift of $100,000 from Angelina Jolie and Brad Pitt to support its two American SOS Children's Villages for Christmas.
SOS-Florida and SOS-Illinois were founded over fifteen years ago to provide an alternative form of foster care in the U.S. that puts an end to multiple placements, separation from siblings, physical and sexual abuse or neglect and abandonment.
Ms. Jolie said of the donation, "We have seen first-hand the remarkable job SOS does to raise orphaned and abandoned children and keep families together. No one 'ages out' of an SOS Village: vocational training, advanced education, living assistance and moral support are there forever."
SOS Children's Villages – USA CEO Heather Paul stated, "The Jolie-Pitt Foundation has been a strong and loyal supporter of SOS Children's Villages around the world. We are deeply grateful that this year this couple has included in their generosity our villages in Illinois and Florida and our 300 children who call SOS 'home.'" Brad Pitt: "In this holiday season, many of us take for granted that we are surrounded by loving family members. The poor outcomes for foster children indicate that we must do a much better job of supporting them."
About SOS Children's Villages in Illinois and Florida
SOS-Florida in Coconut Creek provides a home for 75 children of all ages. Services include tutoring, therapy, life skills, and family reunification when possible.
SOS-Illinois operates two villages, one in Lockport which cares for 102 children. A second village in South Chicago takes care of 84 children and youths. A Social Center also provides day care and support services for other families at risk. Another SOS Village on the West Side of Chicago is in the planning stages.
About SOS Children's Villages
For 60 years, SOS Children's Villages has been dedicated to the long-term care of orphaned and abandoned children. With 500 villages in 132 countries, SOS offers a family-based village model that provides for the holistic needs of a child – family, community, education and support – essential for the successful transition from childhood into adulthood. Through Villages, schools, medical facilities, micro-lending, and family strengthening programs, SOS Children's Villages impacts the lives of over 1 million people each year. In 2009, SOS Children's Villages was honored with the Save the World Award. SOS is also the recipient of the Conrad N. Hilton Humanitarian Prize and the Mother Teresa Gold Medal.
About U.S. Foster Care
There are 518,000 American children in foster care. Three in four are separated from their siblings. Most will live in six or more foster homes in the U.S. foster care system. Unfortunately, their future can be bleak: 25% are homeless at some time, 45% never finish high school