Eko International Film Festival is one of the largest film festivals to take place in Africa. It is a key part of our cultural infrastructure: they inspire audiences, artists, filmmakers and professionals from other parts of the world.
Eko International Film Festival is the longest running independent film festival in Lagos and the 7th edition is slated to take place October 24-29, 2016.Eko International Film Festival recognizes excellence in film industry.
The Lagos State Government under the able and dynamic leadership of His Excellency Executive Governor Akinwunmi Ambode has endorsed the annual Eko International Film Festival.
The 7th edition of the annual Eko International Film Festival is having collaboration with United States Embassy on American Documentary Showcase prior and during the festival. This collaboration with brooded the importance of using film as a tool for change in the society and also improve youth empowerment.
This program is a Program coming out from US State Department Bureau of Educational and Cultural Affairs (ECA). The American Film Showcase (AFS) provides a platform for both PAS and our partner organization to explore important themes such as freedom of expression, conflict resolution, civil rights, climate change, disability rights, economic development, and women's empowerment, and through this program engage and empower key audiences, especially youth, and marginalized communities.
The Film envoys team consists of two film professionals: A filmmaker and a film expert. The film maker would have made a featured film included in the AFS collection and the film expert is an experienced film maker, academic or film industry professional to handle the master class /workshops.
Venues are
(a)Ozone Cinemas Yaba October 21, 2016 , Time :10am – 4pm,
(b)Silverbird Cinemas Victoria Island,Lagos.October 24,2016,Time:10am – 4pm,
The American Film Showcase program consists of two primary components; person-to-person diplomacy trips in which envoys travel to selected countries targeted for this programming,
The film envoys: the filmmaker of a featured AFS film, and an AFS film expert. Pairing a film expert with an AFS filmmaker allows the activities to go beyond screenings and Q&As to include workshops and master classes.
This often deepens on the impact of the program in terms of conveying the power of filmmaking. The expert offers a distinct set of skills that the filmmaker may not possess, from providing a broader historical framework for the making and reception of documentary films to film fundraising, and can provide context and insight into the big picture of filmmaking.
The selected AFS films will be divided into three thematic modules –
Women and Girls Empowerment,
Youth Empowerment,
Diversity and Civil Society.
We are also to address other issues such as
Tolerance,
Civil society engagement,
Conflict mitigation ,
Countering violent extremism through youth engagements.
The programs will also include film screening and workshops centered on capacity development for the creative film industry in Lagos.
Bearing in mind that millions of Nigerians who identify with the Nigerian film industry popularly known as Nollywood, and considering the size and diversity of Nollywood.
Our Guests
University of Lagos Mass Communication and Theater Art.
Yaba College of Technology students, invited guests including women and children to view and have an interactive session with the speakers.
Including College of Educations and College of Technology around Lagos
Nollywood film Practitioners and celebrities will be part of the Master Class
Motion Pictures Practitioners Association of Nigeria (MOPPAN), Nollywood actors and actresses, independent television producers,
Students of the film department at Pan Atlantic University Lagos, women and the students of Holy Child Girls Secondary School Lagos.
Several NGO are also invited to attend the event.
Quest Speakers from University of Southern California Cinematic Department.
Everyone is free to attend this year's American Film Show case.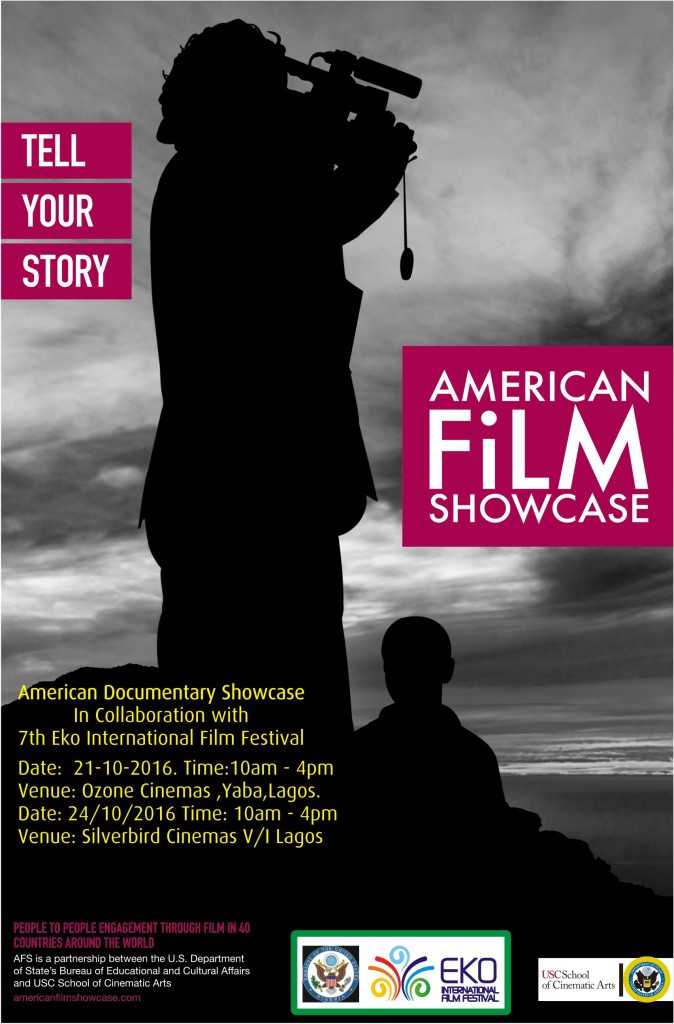 The 7th Eko International Film Festival program will continue after the documentary showcase at the Silverbird cinemas till the last day which will end with an award ceremony on October 29,2016.

Theses 2016/17 Films addressed themes such as :
• Women and Girl's Empowerment
• Youth Outreach
• Diversity and Civil Society
• Disability Rights
• Education
• Participatory Democracy/
• Freedom of Expression
• Technology
SELECTED TITLES
.
Here are the films (not arranged in priority order).
1.All Rise
Synopsis:
How can international disputes be resolved in the courtroom rather than on the battlefield? ALL RISE brings this complex question into sharp and personalized focus through the journeys of seven passionate students of law from India, Israel, Jamaica,Palestine, Russia, Singapore, and Uganda to compete in the world championships in
Washington, DC, of the Philip C. Jessup International Law Moot Court Competition (the "Jessup"), the world's largest simulated court competition. The "court" is the International Court of Justice ("ICJ"), the judicial arm of the United Nations. Against this backdrop, this moving film lays bare the struggles, triumphs and transformations they experience alone and together.
Filmmaker Bio:
Mr. Saunders is an Emmy-nominated and Peabody Award-winning filmmaker. He founded Cinema Capital in 1998, a production company based in New York City focused on realizing visual content from feature films to interactive programming. After a short-lived career as a professional soccer player, he got his start in film in 1993 working as a script reader at EMK Productions in Los Angeles working on behalf of HBO and TNT. Since then, Mr. Saunders has directed and produced fiction films, nonfiction films, series, commercials and Industrials as well as working with Fortune 500 companies on their brand strategies. His films have been selected at international festivals including the Berlin Film Festival, SWSX, IDFA and Thessaloniki Film Festival to name a few and acquired by distributors and broadcasters including Sundance, ARTE, PBS, Film Movement, IndiePix, ZDF, Film Movement, Netflix and SBS. His feature film GOAL DREAMS was selected as one of the top 10 'Movies That Matter' by Amnesty International in 2006. In 2010, Mr. Saunders produced the feature fiction film ANY THING staring Greta Gerwig and Jonathan Zaccai, which premiered at the SWSX Film Festival. His current feature film, ALL RISE, follows the world's largest international law moot court completion and is nearing completion.
Mr. Shapiro has been working in the film industry for a decade after having studied documentary and film production at Clark University where he was awarded a fellowship by the Anton Group to produce a documentary in Ghana entitled LIKE ME, I AM HERE. He has specialized in international documentaries and recently released OPPOSITE FIELD, a film which chronicles a Ugandan Little League Baseball team.
ALL RISE marks a natural progression in Shapiro's career which allows him to explore his intellectual interests in the future of international law while employing his expertise in multi-country production.
2. I'm Not Racist…Am I?
Filmmaker: Catherine Wigginton Greene
Runtime: 93 minutes
Synopsis:
I'm Not Racist… Am I? is a feature documentary about how this next generation is going to confront racism. We asked 12 teenagers from New York City to come together for one school year to talk about race and privilege in a series of workshops and in conversations with friends and family members. We hope that by documenting their experience, the film will inspire others to recognize and interrupt racism in their own lives.
Filmmaker Bio:
Catherine Wigginton Greene is a director, writer, and producer with Point Made Films, an independent production company based in New York City that makes documentaries about American identity.
She directed the feature documentary "I'm Not Racist… Am I?" which follows a diverse group of teens through a yearlong exploration of race and racism. Previously, she coproduced the documentary feature "In 500 Words or Less," which followed four high school seniors as they tried to figure out who they were and who they wanted to become while forging through an anxiety-filled college application process.
In addition to making films, Catherine develops short educational videos, curricula, and discussion guides to accompany all of Point Made's films so that viewers can connect more deeply to the film' subject matter. She also travels the U.S. leading workshops and facilitating dialogue about race and racism. She currently has in development an educational video series to accompany "I'm Not Racist… Am I?," and she wrote and produced the "Adopted: We Can Do Better" video series for adoptive families – a companion educational program for the documentary "Adopted" that explores the unforeseen complications in transracial adoption.
Prior to working with Point Made, Catherine received her MS in Journalism from Columbia University's Graduate School of Journalism and she wrote feature stories for magazines and alternative newsweeklies. She lives in Washington, D.C., with her husband and three daughters.
3.Keepers of the Game
Filmmaker: Judd Ehrlich
Runtime: 82 minutes
Synopsis:
Lacrosse was born in Akwesasne Mohawk Territory as a sacred game, traditionally reserved for men. Just off the reservation at Salmon River High in Fort Covington, NY an all-Native girls lacrosse team comes together, seeking to be the first Native women's team to bring home a Section Championship. But first, they will have to overcome their crosstown rivals, Massena High. As the season comes to a head, the team is faced with increasing ambivalence in their own community and the girls must prove that the game of lacrosse is their rightful inheritance. With more than just the championship on the line, the girls fight to blaze a new path for the next generation of Native women, while still honoring their people's tradition in a changing world.
Filmmaker Bio:
Judd Ehrlich is a Grand Clio and Emmy-winning filmmaker. His 2008 documentary Run for Your Life screened at the 2008 Tribeca Film Festival. His 2014 documentary We Could Be King won the Sports Emmy Award for Outstanding Sports Documentary.
4. Brave Heart: The Lizzie Velasquez Story
Filmmaker: Sara Hirsch Bordo
Runtime: 78 minutes
Synopsis:
A BRAVE HEART follows the inspiring journey of 26-year-old, 63-pound Lizzie from cyber bullying victim to anti-bullying activist. Born with a rare syndrome that prevents her from gaining weight, Elizabeth "Lizzie" Velasquez was first bullied as a child in school for looking different. As a teenager, she was bullied online when she discovered a YouTube video labeling her "The World's Ugliest Woman." The film chronicles unheard stories and details of Lizzie's physical and emotional journey up to her multimillion viewed TEDx Austin Women talk (#1 TEDWomen event of 2013) and follows her evolution as motivational speaker and activist as she lobbies Congress for the firs tfederal anti-bullying bill: the Safe Schools Improvement Act (SSIA).
Filmmaker Bio:
A native Austinite, Sara has held positions in media and entertainment including Executive Director of Interactive Marketing at Paramount Pictures, VP of Digital Marketing at MGM Studios, and CEO & Co-Founder of NowLive (acquired by Live Media Group in 2013) where she executive produced live events including The Hunger Games Premiere, Macy's Fashion Night Out, and the Academy Awards Red Carpet. She was selected to attend The White House Women Entrepreneurship Conference in 2010, The White House Champions for Change Summit in 2012, and in 2012 and 2013 was nominated for Fortune's Most Powerful Women Entrepreneur, and The Producer's Guild of America New Media Council and Women's Impact Network. Most recently, Sara moved back to Austin for the role of Executive Producer for the first TEDx Austin Women, which was the most viewed 2013 TEDx Women event worldwide.
Sara is honored to be directing and producing A Brave Heart: The Lizzie Velasquez Story.
5.Catching The Sun
Filmmaker: Shalini Kantayya
Runtime: 75 minutes
Synopsis:
Through the stories of workers and entrepreneurs in the U.S. and China, Catching the Sun captures the global race to lead the clean energy future. Over the course of a solar jobs training program, Catching the Sun follows the hope and heartbreak of unemployed American workers seeking jobs in the solar industry. With countries like China investing in innovative technologies and capitalizing on this trillion-dollar opportunity, Catching the Sun tells the story of the global energy transition from the perspective of workers and entrepreneurs building solutions to income inequality and climate change with their own hands. Their successes and failures speak to one of the biggest questions of our time: will the U.S. actually be able to build a clean energy economy?
Filmmaker Bio:
Shalini Kantayya finished in the top 10 out of 12,000 filmmakers on Fox's ON THE LOT, a show by Steven Spielberg in search of Hollywood's next great director. Her sci-fi film about the world water crisis, a DROP of LIFE, won Best Short at Palm Beach International, and was broadcast on national television in the U.S. and India. A William J. Fulbright Scholar, Shalini has received recognition from the Sundance Documentary Program, IFP Spotlight on Documentary, Firelight Media Lab, Jerome Hill Centennial, New York Women in Film and Television, and the John D. and Catherine T. MacArthur Foundation. She is a Sundance Fellow, a TED Fellow, and a was a finalist for the ABC Disney | Directors Guild of America Directing Fellowship. Her debut feature, Catching the Sun, premiered at the Los Angeles Film Festival.
6.City Of Gold
Filmmaker: Laura Gabbert
Runtime: 96 minutes
Synopsis:
CITY OF GOLD chronicles Pulitzer Prize-winning restaurant critic Jonathan Gold's deep and complex relationship with the food and culture of his city, Los Angeles. Gold has long been known for his robust writing about the hidden culinary treasures in LA; he was one of the first critics to review small family owned restaurants in far-flung ethnic enclaves with as much care as the haute cuisine establishments of Beverly Hills. With a stroke of his pen, he's changed the lives of countless recent immigrants cooking the food of their homes. With a stroke of his pen, he's changed the lives of countless recent immigrants cooking the food of their homes.
Filmmaker Bio:
Documentary director Laura Gabbert's critically acclaimed films deploy full measures of humor and drama to unflinchingly put a human face on such difficult social issues as aging, the environment, and AIDS. NO IMPACT MAN, which the Los Angeles Times called "terrifically entertaining, compelling and extremely funny," premiered at the 2009 Sundance Film Festival, and played theatrically in over 30 cities. Her previous film SUNSET STORY (PBS) won prizes at Tribeca and LAFF. About it, the New York Times wrote, "Sunset Story may break your heart, but it will also make your day." Other credits include THE HEALERS OF 400 PARNUSSUS (PBS) and GETTING TO KNOW YOU (Sundance, Venice).
Most recently, Laura directed and produced the feature documentary CITY OF GOLD about Pulitzer Prize winning food writer Jonathan Gold. The film premiered in competition at the 2015 Sundance Film Festival where IFC/Sundance Selects picked it up. City of Gold is now playing theatrically in over 40 markets.
Laura received her MFA from UCLA's School of Theater Television and Film.
7.Code: Debugging The Gender Gap
Filmmaker: Robin Hauser Reynolds
Runtime: 90 minutes
Synopsis:
Tech jobs are growing three times faster than our colleges are producing computer science graduates. By 2020, there will be one million unfilled software engineering jobs in the USA. Through compelling interviews, artistic animation and clever flashpoints in popular culture, CODE documentary examines the reasons why more girls and people of color are not seeking opportunities in computer science and explores how cultural mindsets, stereotypes, educational hurdles and sexism all play roles in this national crisis. Expert voices from the worlds of tech, psychology, science, and education are intercut with inspiring stories of women who are engaged in the fight to challenge complacency in the tech industry and have their voices heard. CODE aims to inspire change in mindsets, in the educational system, in startup culture and in the way women see themselves in the field of coding.
Filmmaker Bio:
Robin is director and producer of cause-based documentary films at Finish Line Features, LLC. As a business woman, a longtime professional photographer and a disrupter, Robin brings her leadership skills, creative eye, and unleashed passion to her documentary film projects. Her artistic vision and experience in the business world afford her a unique perspective on what it takes to motivate an audience. Robin's most recent award winning film, CODE: Debugging the Gender Gap, premiered at Tribeca Film Festival 2015, and has caught the attention of the international tech industry and of policy makers in Washington, DC and abroad. Previously, Robin co-directed and produced the documentary feature, Running for Jim, which won 14 awards at 20 film festivals. She has spoken about the importance of diversity in the workplace and on behalf of women's rights at Mobile World Congress, Conferences for Women, SXSW
Interactive Conference, InspireFest, AT&T Foundry FutureCast, Dell Women Entrepreneur Network. Robin has been featured in national publications: USA Today, Wired, Forbes, Fortune, The New Yorker, The Atlantic, Fast Company, Cosmopolitan, Glamour, Marie Claire, San Francisco Business Times and has appeared on Bloomberg TV, CNN, NPR. Robin is the 2016 recipient of the National Women's Political Caucus President's Award for Exceptional Merit in Media.
8.CodeGirl
Filmmaker: Lesley Chilcott
Runtime: 107 minutes
Synopsis:
By 2017, the app market will be valued at $77 Billion. Over 80% of these developers are male. The Technovation Challenge aims to change that by empowering girls worldwide to develop apps for an international competition. From rural Moldova to urban Brazil to suburban Massachusetts, CODEGIRL follows teams who dream of holding their own in the world's fastest-growing industry. The winning team gets $10K to complete and release their app, but every girl discovers something valuable along the way.
Filmmaker Bio:
Lesley Chilcott is an award winning filmmaker, documentarian, and producer. She is the Chair of the West Coast Producers Guild of America (PGA) Non-Fiction documentary committee, and hosts popular PGA screening series The Doc Club. Chilcott got her start in film and production with MTV Networks. Before she made documentaries, she produced and directed hundreds of TV commercials. She was a producer of the 2007 Academy Award-winning documentary, AN INCONVENIENT TRUTH and also produced the amazing rock documentary IT MIGHT GET LOUD (2009) about legendary guitarists The Edge, Jimmy Page and Jack White. Other notable Chilcott-produced films include A MOTHER'S PROMISE, the Barack Obama biographic film for the Democratic National Convention in 2008, and WAITING FOR SUPERMAN (2010), for which she received an award for Outstanding Producer of Theatrical Documentary from the PGA.
In 2014 Chilcott directed the feature documentary, A SMALL SECTION OF THE WORLD, about a village of women coffee producers from the Talamanca mountains of Costa Rica which played at the State Department of the UN in Geneva. The film also had and theatrical run and aired in 40 countries through Sundance International. Her short film CODESTARS garnered over 20 million views online and was the number one video on youtube.com for two days.
9.Generation Startup
Filmmakers: Cynthia Wade, Cheryl Miller Houser
Runtime: 94 minutes
Synopsis:
Generation Startup is a feature documentary that captures the struggles and triumphs of Venture for America fellows as they launch startups in Detroit. Shot over the course of 15 months, the film is a celebration of entrepreneurship, innovation and economic rejuvenation of Detroit.
Filmmaker Bios:
Cheryl started her career producing award-winning, engaging stories for film and television. Excited by the limitless power of storytelling in the digital age, she founded Creative Breed in 2013 to create compelling content across all platforms to engage viewers and inspire them to act. Some of Cheryl's credits include David O. Russell's first movie Spanking The Monkey, winner of the Sundance Audience Award and Academy Award nominated documentary Children Of Darkness. From 2004 until 2011 Cheryl was Executive VP of Programming at Atlas Media Corp, a leading non-fiction production company, where she helped create and oversaw hundreds of hours of programming for many leading cable broadcasters including over 90 episodes of Dr.G: Medical Examiner, the top-rated show on Discovery Health and the hit Travel Channel series Hotel Impossible. Cheryl constantly pushes herself and her teams to create outstanding, innovative content that captivates and inspires viewers.
Cynthia Wade won an Oscar and 16 awards for her 2007 short documentary FREEHELD, and was lead producer for the 2015 Lionsgate feature film adaptation of this film, starring Julianne Moore. Wade received her second Oscar nomination for her documentary MONDAYS AT RACINE (HBO) in 2013. Wade is the director of the documentaries BORN SWEET (17 film festival awards), LIVING THE LEGACY (Sundance & IFC Channels), GROWING HOPE AGAINST HUNGER (Sesame Street Prime Time Special, Emmy Winner), SHELTER DOGS (HBO, 5 festival awards) HEART FELT (shot in 5 countries) and GRIST FOR THE MILL (Cinemax). She is the co-director of GENERATION STARTUP (2016). She is currently directing television commercials for Procter & Gamble, Kimberly Clark, Unilever and Abbott. Wade is developing her first fiction film project to direct. Wade has an MA in Documentary Filmmaking from Stanford University.
10. 3½ MINUTES, TEN BULLETS
Film Representative: Carolyn Hepburn
Filmmaker: Marc Silver
Runtime: 98 minutes
Synopsis
In 3½ Minutes, Ten Bullets, two lives intersected and were forever altered. On Black Friday in 2012, two cars parked next to each other at a Florida gas station. A white middle-aged male and a black teenager exchanged angry words over the volume of the music in the boy's car. A gun entered the exchange, and one of them was left dead. Michael Dunn fired ten bullets at a car full of unarmed teenagers and then fled. Three of those bullets hit 17-year-old Jordan Davis, who died at the scene. Arrested the next day, Dunn claimed he shot in self-defense. Thus began the long journey of unraveling the truth. 3½ Minutes follows that journey, reconstructing the night of the murder and revealing how hidden racial prejudice can result in tragedy.
About The Producer
Carolyn Hepburn joined Motto Pictures in 2010 and was Line Producer on two films for Motto that premiered at the 2013 Sundance Film Festival: God Loves Uganda, shortlisted for the 2014 Academy Award for Best Documentary Feature, and Gideon's Army, winner of the Sundance Film Festival's Best Editing Award. She worked as the Production Executive of We Are The Giant, which premiered at the 2014 Sundance Film Festival and executive produced Art and Craft, which premiered at the 2014 Tribeca Film Festival and is shortlisted for the 2015 Academy Award for Best Documentary Feature. Hepburn produced 31⁄2 MINUTES, TEN BULLETS, directed by Marc Silver, which will premiere at the 2015 Sundance Film Festival. Hepburn is currently co-producing Ivy Meeropol's new documentary Indian Point and The Punch directed by Andre Hörmann; and line producing the documentary Fellove, directed by Matt Dillon and Life Animated, directed by Roger Ross Williams. Prior to joining the Motto team, Hepburn produced a wide range of documentary projects for WNET, National Public Radio, and the United Nations as well as innovative experiential media for Spark Productions.