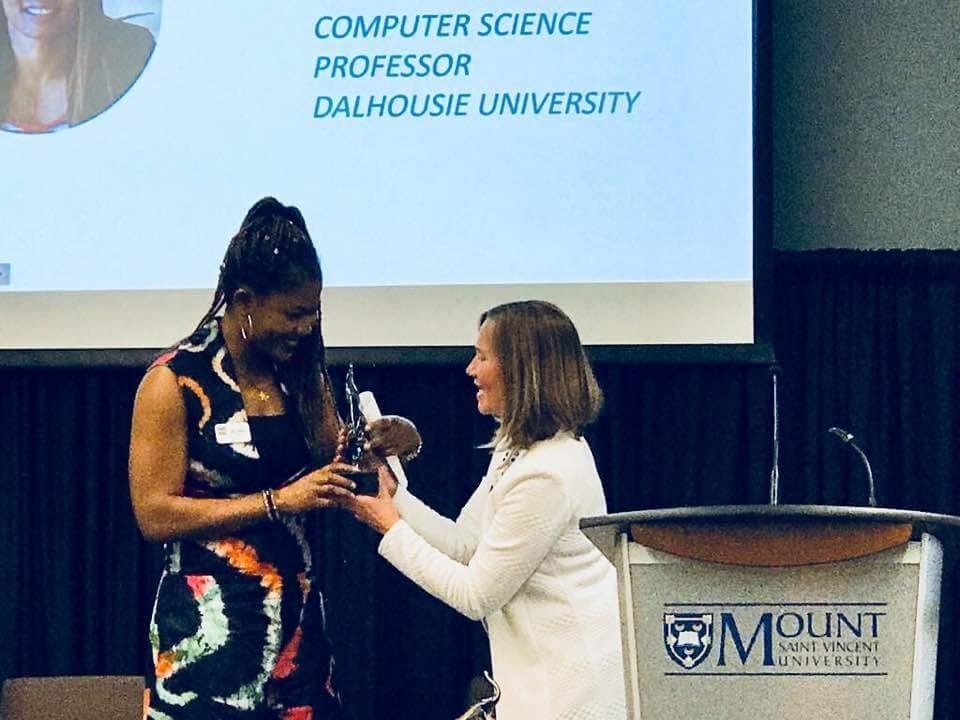 Dr. Rita Orji Receiving the Award
DR. Rita Orji has won the prestigious 2018 Canadian Digital Diversity Award for Women Leader in the Digital Economy. The Nigerian is a Computer Science professor at the Dalhousie University in Canada and the award was given by Digital Nova Scotia. Three women in Nova Scotia's ICT sector walked home with some hardware on Tuesday during Digital Nova Scotia's third Digital Diversity Awards. The three category winners represented women in senior level executive positions who, according to Digital Nova Scotia, "have made a significant contribution to Nova Scotia's ICT sector and are active champions of diversity in their communities or organizations.
Orji's research focuses on investigating how interactive systems can be designed to help people move towards improved health and wellness. In 2017, she was named one of the top 150 Canadian Women in STEM by the VOLUTION, and was among the top 50 Young Most Influential Best Brains in Enugu State. She was also invited to speak to the Canadian Parliament and at a United Nations Commission on the State of Women's Panel.
"Since 1843, women have led major advances in programming and software development, yet today women still represent less than 25 per cent of the industry. Our awards were established to address the gender gap, and actively promote role models and champions of diversity in our ICT sector," said Ulrike Bahr-gedalia, president and CEO of Digital Nova Scotia, in a statement.
courtesy: www.pressreader.com