Serial Entrepreneur, Chioma Ikokwu, widely known as Chioma Good Hair sits with Chude Jideonwo, host of #WithChude to discuss being on the reality TV show – The Real Housewives of Lagos, her expectations before she joined the show, and her experiences.
"I enjoyed some parts of RHOL, like the fun activities. But in most parts, I didn't. If you are having fun, you are having fun, and anyone who knows me knows that I like to have a good time. For a lot of the activities we had, I actually genuinely enjoyed it. I felt like I met one or two amazing people and that was interesting. Also, It challenged me, physically, mentally, spiritually, and emotionally.
"But, it was a very toxic environment and my real life is not toxic at all. I don't have anybody around me that is negative or jealous or has an unsolicited opinion. I don't have people like that around me. To be subjected to that kind of thing day in and day out, where I can't avoid you is very toxic, it is unnecessary.
"I went there quite naive, thinking, 'be yourself, have fun with it'. I didn't even realize that reality TV dramas sell, that when you have issues people gravitate towards you, whether they hate you or love you and you become popular. So, some people have that strategy and that is why they were probably acting crazy from the start. With other people, I feel like you can't really hide your persona, like they say, a character is like pregnancy, you can't hide it for long".
Reacting to the meanness on the show and the drama that follows, she shared, "for me, it was just embarrassing. Looking at the person that I am, and the family that I came from, this is not something that I have ever even engaged in. I was never even on Twitter. The last time I was on Twitter was when I was in Lebanon because I had a desktop but after that time I never really went back. I just felt like it was such a violent space to be in, seeing all that was so new to me ".
"All the back and forth could have been avoided. What did we teach young girls? People come to me, and say things like, "Oh my, you are so inspiring", but I know how much more I would have offered to the situation to actually genuinely inspire people, to want to be better and do better but I don't want to be seen on TV as someone who is fighting or arguing. That is not the legacy that I want to leave. I don't want the tagline to be insults, I want it to be something you can use to empower yourself and I never really liked the fact that they pushed more negativity. At the end of the day, of course, drama sells on TV, but it could have been mixed a little bit more", she added.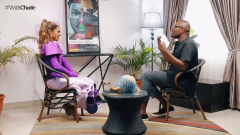 When asked if she regretted being part of the show, she mentioned that she has mixed feelings about it, "some days I will just wake up and wonder what possessed me to be in the show, where even when there is the violence they don't mind. Other times, I see that it also gave people an opportunity to see
different sides of me, before that it was just pictures on Instagram, and people kind of thought that I was so stuck up."
Courtesy Joy, Inc.
Chris Rufus' new album, "Timeless", reflects on the sovereignty of God and the efficacy of His power, His goodness and unending grace. Artists featured in the Album are Rionbee and Lex.
Chris Rufus is addicted to creative sounds; he makes music sound beautiful and his songs inspire change.
Chris Rufus has written several songs cutting across many genres such as Afro-pop, Country, Inspirational, classical and hip-hop. This is based on his belief in creative diversity that is not restricted by borders, beliefs, traditions and philosophies. Consequently, his songs are inspired by, and embrace a universal diversity. 
According to Chris, his mission is to create songs that will be timeless, transcend many generations, and inspire and change lives. 
Mma Mma (Chris Rufus Feat. Rionbee)
Mma Mma is one of the hit songs in the "Timeless"  

Album  https://www.youtube.com/watch?v=7PbSP4kJ_lA

"Mma Mma" is a song of praise, thanksgiving and worship. Words alone, are not enough to express God's goodness over my life. This is very personal and deep for me and everyone who understands and acknowledges God's Love and mercy in their Lives.
LINKS TO LISTEN TO THE ALBUM
Click to view the "Timeless" Album on the various platforms below: 
Website:  https://www.chrisrufus.com

Sound Cloud https://soundcloud.com/chris-rufus-18

Youtube https://www.youtube.com/channel/UCxMPFQtBB-Ald1nt7FXaaDQ

SPOTIFY https://open.spotify.com/album/24fqCSn552AG7AxzkvU7gO
APPLE MUSIC https://music.apple.com/au/album/time
itunes music https://music.apple.com/au/album/time
Amazon music https://music.amazon.com/albums/B0B4B

DEEZER MUSIC https://www.deezer.com/en/album/32854

ABOUT CHRIS RUFUS
Christian Nwankpa, whose stage name is Chris Rufus, was an executive Producer of various Movies, one of which was an award-winning Action Thriller, "Dangerous men" directed by Gugu E Michaels. He is also the Author of "ABC of True Love" ( https://www.amazon.com.au/CHRISTIAN-NWANKPA/e/B096RMY51G/ref=kwrp_li_aut ) , (https://www.amazon.co.jp/-/en/Mr-CHRISTIAN-NWANKPA/dp/B097X5VTPG) a singer, song writer, pianist, music instructor and music producer (https://www.chrisrufus.com ).

He is a Business Strategist and an Entrepreneur who served as Pioneer Board Member and Treasurer of the Association of Strategic planning, Australia. He holds a bachelor of Science degree in Mathematics and also holds double master's degrees in Business Administration and Professional Advanced Accounting from the prestigious University of Lagos and Torrens University, Adelaide, South Australia.