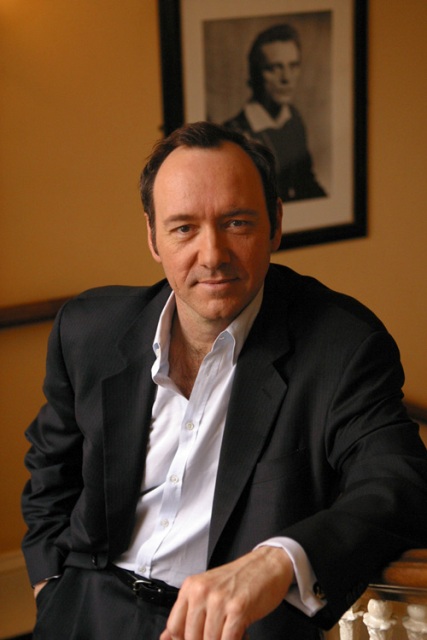 13 Jan 2010 10:29 Africa/Lagos
Kevin Spacey 'Inseparable' in China
BEIJING, Jan. 13 /PRNewswire-Asia-FirstCall/ — Xinhua Sports & Entertainment Limited ("XSEL", Nasdaq: XSEL), a leading sports and entertainment media company in China, today announced that Two-time Academy Award winner Kevin Spacey has signed on to star in director Dayyan Eng's black comedy from his own script titled "Inseparable". The project, principally financed by Fantawild Pictures, co-stars Daniel Wu (Overheard, Shinjuku Incident) and Beibi Gong (The Detective 2, Waiting Alone) will begin production in southern China this month. It is being produced by David U. Lee of Xinhua Media Entertainment ("XME"), a majority owned subsidiary of XSEL, and Dayyan Eng of Colordance Pictures. Li Ming of Fantawild Pictures, Kevin Spacey and Dana Brunetti in association with Trigger Street Productions, Bill Block of QED International and Steven Squillante will executive produce.
Kevin Spacey's photo link: http://www.xsel.com/Kevin_Spacey/
"Inseparable" marks the first time an award winning actor of Mr. Spacey's caliber and international renown has starred in a Chinese production. The film to be shot in Mandarin and English follows a young man with problems at home and work who is befriended by a mysterious American expat (Spacey) who changes his life. Wu co-stars as a young engineer and Gong as his investigative reporter wife.
"Fantawild Pictures and XSEL are leading the way in the Chinese film entertainment sector by being the first to bring a two-time Academy Award winning actor to a Chinese production," said Ms. Fredy Bush, CEO of XSEL. "We are proud to be a part of the team that shows a global audience that China can produce more than just period dramas and martial-arts pictures."
Kevin Spacey is represented by CAA, Joanne Horowitz Management, and Hansen, Jacobson, Teller, Hoberman, Newman, Warren and Richman LLP.
Beijing-based American director Dayyan Eng's previous feature film, Waiting Alone, was a cult hit in China headlined by Xia Yu, Li Bingbing and Gong Beibi, with cameos by Chow Yun-Fat and other Asian stars. The romantic comedy won Best First Feature and Best Actor awards at the popular Beijing Film Festival and was nominated for three Chinese academy awards (Golden Roosters) including Best Picture in 2005. Eng's short film, Bus 44, won awards at Venice and Sundance.
Kevin Spacey's other upcoming projects include "Casino Jack", in which he plays disgraced Washington power broker Jack Abramoff, and the comedy "Father of Invention". He is also the Artistic Director of The Old Vic Theatre in London.
Other upcoming Trigger Street projects include the Untitled Captain Richards Phillips/Somali Pirate Project, "The Social Network" adapted by Aaron Sorkin and directed by David Fincher, and "The Ugly Americans" based on Ben Mezrich's 2004 non-fiction book.
Fantawild Pictures, a large-scale film production company, is a subsidiary of Hua Qiang Group ("HQG"). HQG widely regarded as the Disneyland of China, is the leading theme park provider and operator in the country. Fantawild Pictures is engaged in financing and producing international co-productions, blockbusters with heavy digital effects, animations and up and coming 3D features. For more information, please visit http://www.fantawild.com/ .
Xinhua Media Entertainment, a majority owned subsidiary of XSEL, is a motion picture enterprise dedicated to aggregating and marketing highly commercial world-class quality film entertainment products to the Chinese audience. Collaborating with leading film producers and distributors in China and Hollywood, XME has assembled an initial slate of eight properties, two of which are completed films to be released in the next four months. "The Spy Next Door", starring Jackie Chan, to be released nationwide on January 15th and "More Than a Game", starring LeBron James, to be released in April 2010. Its Managing Director, David U. Lee is recognized by the Hollywood and Chinese film communities as one of the industry leaders that specializes in bridging the two film industries. Lee is credited as Co-Executive Producer of "The Forbidden Kingdom", which he helped structure as the most successful China/U.S. co-production in history. Lee is also credited as Co-Executive Producer of "Shanghai" starring John Cusack, Chow Yun-Fat, Gong Li and Ken Watanabe, which he helped setup as an official China/U.S. assisted co-production. For more information, please visit http://www.xmediaent.com/ .
For more information, please contact:
Media Contact:
Joy Tsang
XSEL
Phone: +86-10-8567-6050; +86-136-2179-1577
Email: joy.tsang@xsel.com
IR Contact:
Edward Liu
XSEL
Phone: +86-10-8567-6061
Email: edward.liu@xsel.com
Howard Gostfrand
American Capital Ventures
Phone: +1-305-918-7000; toll free +1-877-918-0774
Email: info@amcapventures.com
About XSEL
Xinhua Sports & Entertainment Limited ("XSEL"; NASDAQ: XSEL) is a leading sports and entertainment media company in China. Catering to a vast audience of young and upwardly mobile consumers, XSEL is well-positioned in China with its unique content and access. Through its key international partnerships, XSEL is able to offer its target audience the content they demand -premium sports and quality entertainment. Through its Chinese partnerships, XSEL is able to deliver this content across a broad range of platforms, including television, the Internet, mobile phones and other multimedia assets in China. Along with its integrated advertising resources, XSEL offers a total solution empowering clients at every stage of the media process linking advertisers with China's young and upwardly mobile demographic.
Headquartered in Beijing, the company employs more than 1,000 people and has offices and affiliates in major cities throughout China including Beijing, Shanghai, Guangzhou, Shenzhen and Hong Kong. Xinhua Sports & Entertainment Limited shares are listed on the NASDAQ Global Market (NASDAQ:XSEL) . For more information, please visit http://www.xsel.com/ .
Safe Harbor Statement
This announcement contains forward-looking statements. These statements are made under the "safe harbor" provisions of the U.S. Private Securities Litigation Reform Act of 1995. These forward-looking statements can be identified by terminology such as "will," "expects," "anticipates," "future," "intends," "plans," "believes," "estimates," "confident" and similar statements. Among other things, any quotations from management in this announcement contain forward-looking statements. Statements that are not historical facts, including statements about XSEL's beliefs and expectations are forward-looking statements. Forward-looking statements involve inherent risks and uncertainties that could cause actual results to differ materially from those contained in any forward-looking statements. Potential risks and uncertainties include, but are not limited to, risks outlined in XSEL's filings with the U.S. Securities and Exchange Commission, including its annual report on Form 20-F. All information provided in this press release is as of the date hereof, and XSEL undertakes no duty to update such information, except as required under applicable law.
http://www.xmediaent.com
Source: Xinhua Sports & Entertainment Limited
CONTACT: Media Contact: Joy Tsang, XSEL, +86-10-8567-6050;
+86-136-2179-1577, joy.tsang@xsel.com; IR Contact: Edward Liu, XSEL,
+86-10-8567-6061, edward.liu@xsel.com; Howard Gostfrand, American Capital
Ventures, +1-305-918-7000; toll free +1-877-918-0774, info@amcapventures.com
Web site: http://www.xsel.com/Kevin_Spacey