The first edition of the annual Africa International Film Festival (AFRIFF) opened Wednesday December 1, 2010, in the oil city of Port Harcourt in Rivers State, Nigeria. The film fiesta will end with a closing ceremony on Sunday.
Chioma Ude, Founder and Project Director of the Festival, who produced the successful 6th ION International Film Festival (IONIFF) (a touring festival originating from Hollywood) in the same city says they have a competent organizing committee of experts, including Peace Anyiam-Osigwe the founder and CEO of the annual AMAA Awards, Caterina Bortolussi, the co-producer of ION International Film Festival, Soledad Grognett, Ilaria Chessa, June Givanni, Alessandra Speciale and Celine Loader. They are poised to make AFRIFF the numero uno of film festivals in Nigeria and the rest of Africa.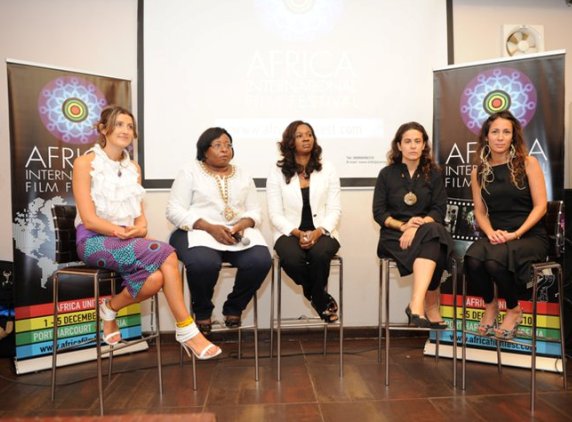 Chioma Ude and her team of experts.
AFRIFF with the theme ; "Africa Unites" will widen content trade out of Africa and global partnerships.
The 4-day film festival has attracted filmmakers from across the continent and other parts of the world as shown by the films submitted by top filmmakers from Nigeria, Angola, Mozambique, the UK, India, Haiti, Pakistan, Turkey, the West Indies, Portugal, Germany and other countries who are coming to celebrate and compete for laurels at the event.
Two Nigerian films made the official selection of 13 films; Lancelot Imasuen's "Home in Exile" and Ikechukwu Iyeke's "Equal Rights & Justice".
AFRIFF is supported by several sponsors, including the Rivers state government and other partners.
About AFRIFF:
Founded in 2009, the Africa International Film Festival (AFRIFF) has a vision to create a platform for the world to zoom in on the diversity and creativity of Africa through motion pictures. Starting December 2010, AFRIFF will unite film makers from across the world on the African soil. It will be held yearly in Port Harcourt, Rivers State, Nigeria hosting both local and international filmmakers, celebrities, actors, producers, directors, film buyers, distributors, visual artists, film students, amateurs, film lovers and the media. AFRIFF will also launch a unique Film & Equipment Market, which will grow content and equipment trade out of Africa and foster partnerships
~ By Ekenyerengozi Michael Chima