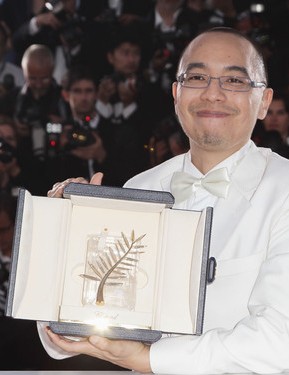 The 63rd Cannes Film Festival ended with the thai filmmaker, Apichatpong WEERASETHAKUL winning the Palme d'Or, the highest prize for his film "LUNG BOONMEE RALUEK CHAT (Uncle Boonmee Who Can Recall His Past Lives)".
If Thailand can go as high as winning the most coveted prize at the Cannes, then Nigeria can produce the films that can qualify for competition and win top prizes. What is the benefit of producing thousands of movies since 1992 to date and not a single Nollywood movie has even qualified for the Official Selection of the Cannes Film Festival? Nigerian filmmakers must step up to compete with the best in the world or go and dump their mediocre movies in the Atlantic Ocean before coming to the Côte d'Azur and get dazed and fazed by the outstanding filmmakers from all over the world.
Congratulations to all the worthy winners.
SYNOPSIS:
Suffering from acute kidney failure, Uncle Boonmee has chosen to spend his final days surrounded by his loved ones in the countryside. Surprisingly, the ghost of his deceased wife appears to care for him, and his long lost son returns home in a non-human form. Contemplating the reasons for his illness, Boonmee treks through the jungle with his family to a mysterious hilltop cave — the birthplace of his first life…
Complete List of the Winners at the 63rd Cannes Film Festival
Feature films
Short Films