17 May 2010 03:11 Africa/Lagos
Miss Michigan USA Crowned MISS USA® 2010 During Live NBC Telecast
LAS VEGAS, May 16 /PRNewswire/ — This evening, during one of the year's most watched live television events, a star-studded panel of judges chose Miss Michigan USA, Rima Fakih, as MISS USA® 2010. Internationally-renowned chef and current "Celebrity Apprentice" contestant Curtis Stone and "Today" show co-host and correspondent Natalie Morales hosted the 59th Annual MISS USA Pageant from Planet Hollywood Resort & Casino in one of the world's most electrifying cities, Las Vegas. The comedic mother-daughter duo Joan and Melissa Rivers were on hand providing backstage color commentary.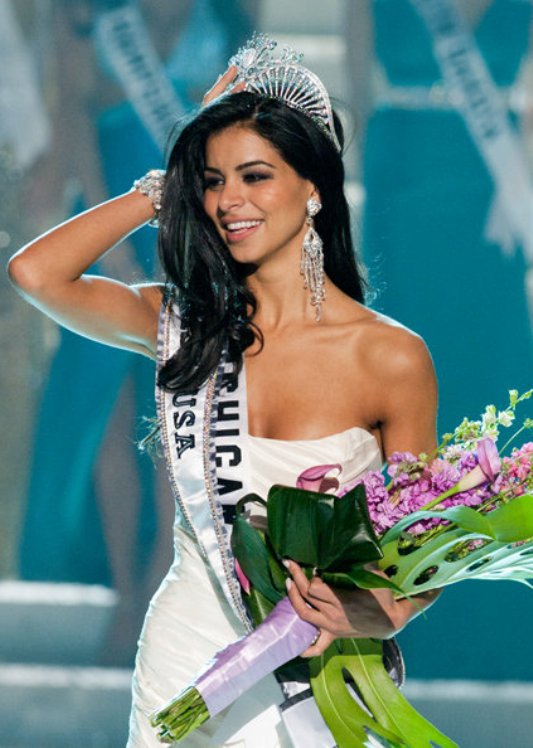 Miss Michigan USA, Rima Fakih, as MISS USA® 2010
Ms. Fakih, 24, is from Dearborn, Michigan where she was raised with her younger brother. She is a graduate of the University of Michigan, where she earned her Bachelor of Arts degree in Economics, with a minor in Business Administration. After completing her reign as MISS USA, she plans to attend law school. She enjoys traveling, running, dancing, kickboxing and especially likes playing football and watching the NFL.
The judging panel for the 2010 MISS USA® Pageant included: Carmelo Anthony of the NBA's Denver Nuggets and a two-time Olympic medalist; Miss USA 2006, Tara Conner; best-selling author, chef and host of four shows on The Food Network, Paula Deen, star of NBC's hit comedy series, "The Office," Oscar Nunez; American businessman and real estate mogul, Phil Ruffin; Executive Fashion Editor at Large of Glamour magazine, Suze Yalof-Schwartz; model, Melania Trump, who has appeared on the covers of Vogue, Harper's Bazaar and Vanity Fair and three-time National Champion figure skater and Olympian, Johnny Weir.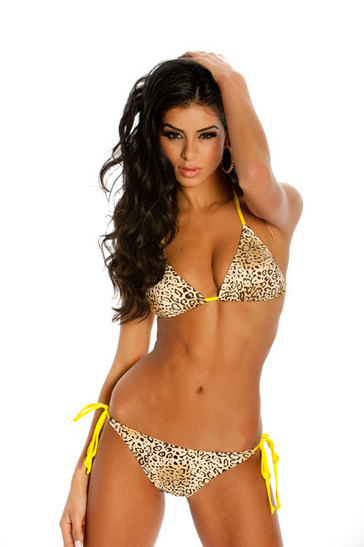 Rima Fakih in swimsuit
Boys Like Girls (BLG) performed their new song, "Heart Heart Heartbreak" for the first time ever during the swimsuit competition and Grand Ole Opry member Trace Adkins who had 27 charted singles and 14 Top Ten hits, debuted his latest single, "This Ain't No Love Song," during the evening gown portion of the competition
Throughout the two-hour event, the contestants competed in three categories: swimsuit, evening gown and interview. Kristen Dalton, MISS USA 2009, crowned her successor at the conclusion of the telecast, before an estimated worldwide viewing audience of more than 250 million.
Final Results:
————–
Miss Oklahoma USA, Morgan Elizabeth Woolard, will
assume the duties of MISS USA 2010 if the
titleholder is named MISS UNIVERSE 2010 or if for
First Runner Up: some reason MISS USA cannot fulfill her duties.
Second Runner Up: Miss Virginia USA, Samantha Casey
Rest of Top Five: Miss Colorado USA, Jessica Hartman
Miss Maine USA, Katie Whittier
Rest of Top Ten: Miss California USA, Nicole Michele Johnson
Miss Tennessee USA, Tucker Perry
Miss Missouri USA, Ashley Strohmier
Miss Alabama USA, Audrey Moore
Miss Mississippi USA, Breanne Ponder
Rest of Top
Fifteen: Miss Arkansas USA, Adrielle Churchill
Miss Kansas USA, Bethany Gerber
Miss Wyoming USA, Claire Schreiner
Miss Pennsylvania USA, Gina Cerilli
Miss Nebraska USA, Belinda Wright
MISS PHOTOGENIC USA(TM) Award: Miss Alabama USA, Audrey Moore. The general public voted on www.nbc.com for the delegate who exemplifies beauty through the lens of a camera. She was awarded a $1,000 cash prize as well as a Flip MinoHD Video Camcorder and jewelry from Diamond Nexus Labs.
MISS CONGENIALITY USA(TM) Award: Miss Nebraska USA, Belinda Wright. The award reflects the respect and admiration of the contestant's peers, who voted for her as the most congenial, charismatic and inspirational participant. She was awarded a $1,000 cash prize as well as a Flip MinoHD Video Camcorder and jewelry from Diamond Nexus Labs.
The MISS USA® 2010 prize package includes: a custom diamond tiara and jewelry designed by Diamond Nexus Labs; a shoe wardrobe from Nina Footwear; a one year scholarship (including housing) from the New York Film Academy; hair care products and tools from Farouk Systems; eveningwear wardrobe by Sherri Hill; a Flip MinoHD Video Camcorder; a collection of fashion-fresh Heys USA luggage; luxury accommodations in a New York City apartment for the duration of her reign, including living expenses; a year-long salary as Miss USA; personal services including membership to Gravity Fitness and hair services from John Barrett Salon; modeling portfolio by leading fashion photographer Fadil Berisha; dermatology and skincare services provided by Dr. Cheryl Thellman-Karcher; professional health and nutrition consultation by Tanya Zuckerbrot, MS, RD and dental services by Dr. Jan Linhart, D.D.S.; casting opportunities and professional representation by the Miss Universe Organization; extensive travel opportunities representing sponsors and charitable partners; year long consultation with a fashion stylist and access to a personal appearance wardrobe and the opportunity to represent the USA at the 2010 Miss Universe pageant this summer in Las Vegas.
The MISS UNIVERSE®, MISS USA® and MISS TEEN USA® pageants are a Donald J. Trump and NBC Universal joint venture. Utilizing its nationwide grass roots infrastructure, the Miss Universe Organization is committed to increasing awareness of breast and ovarian cancers. By forging relationships with organizations committed to research and education, such as Susan G. Komen for the Cure and Gilda's Club. For more information, visit: www.missusa.com.
Follow Miss USA®:
— Facebook: www.facebook.com/OfficialMissUSA
— YouTube: www.youtube.com/OfficialMissUSA
— Twitter: TheRealMissUSA
— Blogs: www.missusa.com/blogs/index
Source: The Miss Universe Organization
CONTACT: The Miss Universe Organization, Lark-Marie Anton,
+1-212-373-4982, lanton@missuniverse.com, or Meagan McCutcheom,
+1-212-373-4983, mmccutcheon@missuniverse.com, or Dara Busch, +1-212-843-8079,
dbusch@rubensteinpr.com, NBC Universal, +1-818-777-3006,
Kellie.Kulikowsky@nbcuni.com
Web Site: MISS USA®