The international award winning film Eternal closed the second Eko International Film Festival in Lagos on Thursday July 14, 2011.
Thursday July 14, 2011.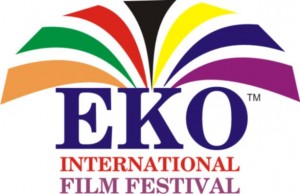 The Invocation and Eternal close the 2nd Eko International Film Festival
Emmanuel Itier's dialectical spiritual documentary The Invocation and Chike Ibekwe's melodramatic metaphysical drama Eternal closed the second edition of the annual Eko International Film Festival (EKOIFF) Thursday morning at the Silverbird Cinemas of the Silverbird Galleria on Victoria Island, Lagos.
International award winning documentaries, features and short films from Nigeria, Europe and the U.S. were screened from the opening last Saturday July 9 to the closing day on Thursday July 14. The free event attracted leading stakeholders in Nollywood, including top filmmakers, journalists, film critics and the public who had to come to the venue even in the downpour and flood of a very wet season in the coastal mega city of Nigeria, the hub of Africa's first film industry rated as the second largest in the world by UNESCO.
The President of Eko International Film Festival, Mr. Hope Obioma Opara thanked the Silverbird Group for providing a very conducive venue at the Silverbird Galleria and promoting the event on Silverbird TV, Rhythm FM 93.7 and supporting his company Supple Communications Limited to organize a successful film festival. He also appreciated the morale support of the Nigerian press for the highly commendable news coverage of the event and promises that the third edition next year will be better with the cooperation and support of more participants and sponsors.
"Hopefully, we are going to have corporate sponsors for the third edition in 2012. In fact the preparation for the next one has already begun," said Mr. Opara. He reemphasized that the mission of Eko International Film Festival is to promote the best interests of Nollywood and use the film festival to make Lagos State a major tourist destination in the world as the famous Cannes Film Festival is doing for France.
The Founder/Festival Director Ekenyerengozi Michael Chima appreciated the outstanding quality of the submitted films from both local and international filmmakers; notably Faruk Lasaki's romantic thriller Changing Faces, Iara Lee's socio-political documentary Cultures of Resistance, Emmanuel Itier's intellectual and spiritual documentary The Invocation, Chike Ibekwe's metaphysical drama Eternal, Joseph Ugochukwu Ubaka's engaging urban crime thriller Lilies of the Ghetto and Kayode Ibisankale's well researched documentary on the Yoruba's Talking Drum Dundun.
"The enthusiasm of filmmakers to participate in Eko International Film Festival is our greatest encouragement, because what makes a successful film festival is the quality of the films. But, with corporate sponsors we would be able to screen more international award winning films next year and host the filmmakers," said Michael Chima.