100% Pure New Zealand's Filmmaking Competition will Premiere Winning Film on IFC leading into 25th Film Independent Spirit Awards on March 5, 2010
Los Angeles and Auckland, New Zealand (January 21, 2010) /PRNewswire/ — Academy Award®-winning producer Barrie Osborne (The Lord of the Rings) and a panel of judges named the five finalists in the 100% Pure New Zealand Presents Your Big Break short film competition today. American finalists Kristi Simkins from Auburn, Wash., and Aya Tanimora from Santa Monica, Calif., will now travel to Queenstown, New Zealand, where they will work with Osborne and world class post-production facility Park Road Post Production to shoot and direct their own short films capturing the essence of the world's youngest country. Academy Award®-winning director Sir Peter Jackson will select the winning entry.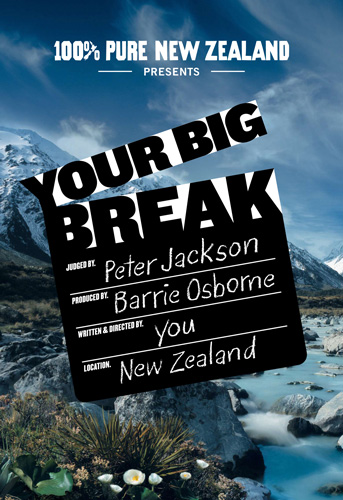 After Jackson personally views and judges the five finalists' films, he will select one overall winner whose film will air on IFC just prior to the Spirit Awards live broadcast on March 5 at 8 p.m. Pacific/11 p.m. Eastern.
As if the opportunity to travel to Queenstown and work with the Academy Award-winning team responsible for The Lord of the Rings trilogy wasn't enough, all finalists' films will premiere in front of hundreds of the entertainment industry's brightest at the 100% Pure New Zealand lounge at the 25th Film Independent Spirit Awards, of which 100% Pure New Zealand is a Principal Sponsor, and on the Your Big Break Web site, www.your-big-break.com.
"The diversity of excellent entries demonstrates the passion people have for New Zealand," says Tourism New Zealand Chief Executive Kevin Bowler. "Many of the screenplays capture the spirit of New Zealand including the country's extraordinary landscapes, people and culture; the judges had their work cut out for them selecting just four."

Barrie Osborne (The Lord of the Rings)
While Osborne and a panel selected four of the finalists, Your Big Break site visitors voted for Aya Tanimura's film as the "People's Choice" finalist.
The other three finalists include Andrés Borghi from Buenos Aires, and Tim McLachlan and Rajneel Singh from Auckland, New Zealand.
"Putting the spotlight on emerging filmmakers is the essence of the Spirit Awards, and giving the "Your Big Break' finalists the opportunity to present their work on IFC is a fantastic way to cultivate new filmmaking talent," said Jennifer Caserta, Executive Vice President and General Manager of IFC.
All of the finalists are aspiring filmmakers who've dabbled in multiple aspects of the entertainment industry. The protagonist in Simkins's film "Something Special" seeks to fulfill a promise with his trip to New Zealand, while the main character in fellow American Tanimura's script "Sweet As," uses her imagery of the world's youngest country to impress. New Zealand native Singh's submission "Blank Spaces," plays off New Zealand's pure, untouched and unmapped image, while his fellow Kiwi McLachlan's entry "Mr. Whippy and the BMX Kid," focuses on a young Maori boy's conversation with an old man searching for renewal. Borghi's screenplay for "Working Day" centers on New Zealand's creation and aims to take advantage of his post production prowess.
"Many of the entries were stellar, but our five finalists' films displayed a combination of humor, imagination and passion that brought New Zealand's spirit to life," says Osborne. "I'm looking forward to working with all of these talented individuals."
The submission and voting period ran from December 9, 2009 until January 15, 2010 on www.your-big-break.com. More than 1,000 aspiring directors from around the globe entered a screenplay for a three-minute short film that captured the spirit of New Zealand and any supporting content they thought would aid their selection. The five finalists will produce their films in New Zealand in early February.
Useful Links:
Your Big Break website: www.your-big-break.com
On Facebook: www.facebook.com/YourBigBreak
On Twitter: http://twitter.com/YourBigBreakNZ
For inspiration: www.newzealand.com
For information about New Zealand's extensive vacation options, log onto the 100% Pure New Zealand website at http://www.NewZealand.com.
For other media information, log on to http://www.media.newzealand.com. For high-resolution images, visit http://www.images.newzealand.com.
ABOUT THE FILM INDEPENDENT SPIRIT AWARDS The Film Independent Spirit Awards is a celebration honoring films made by filmmakers who embody independence and originality. Televised in millions of homes and covered internationally by the press, the Spirit Awards has become the vanguard event in independent film, recognizing the achievements of independent filmmakers and promoting independent film to a wider audience.
Media Contact:
Andrew Reynolds
Hill & Knowlton for Tourism New Zealand
949-223-2307
andrew.reynolds@hillandknowlton.com