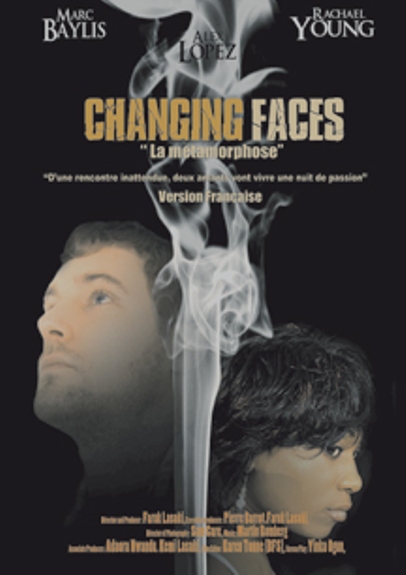 The 2nd Eko International Film Festival (EKOIFF) opened Saturday morning in Lagos with the Nigerian premiere of Faruk Lasaki's romantic thriller Changing Faces at the Silverbird Galleria on Victoria Island. The feature of 92 minutes is on the psychological trauma of an illicit affair caused by the transference of spirits through sex.
Many people came for the opening day graced by top Nigerian entertainment journalists including Shaibu Husseini of The Guardian who was later joined by his boss Jahman Anikulapo, the Editor of The Guardian on Sunday, Victor Akande of The Nation, Wale Idowu Shadrach, the Publisher/Editor-in-Chief of Movietainment, the leading magazine on Nollywood and other sectors of the Nigerian entertainment industry; and notable stakeholders present were Femi Odugbemi, the multiple award winning Nigerian filmmaker and head of DVWORX, who is also the Founder/Festival director the iRepresent International Documentary Film Festival, Mrs. Duro Oni representing the Nigerian Film Corporation (NFC), famous Nollywood director Fidelis Duker who is the Founder/Festival Director of Abuja International Film Festival, Alex Onyogho, President of the Association of Nollywood Core Producers (ANCOP), Mrs. Busola Solanke, Chikezie Nkemdirim Donatus of Independent Field Advertisers Limited, Chris Nwankpa, the CEO of Fintel and an executive producer of the action movie Dangerous Men accompanied by the leading actress Onyekachi Anyajike with Kiki Deo, international award winning filmmaker Chike Ibekwe, and Bic Leu, a Fulbright Fellow at the University of Lagos, author of Finding Nollywood, who is in Nigeria to analyze Nollywood's social impact through the Social Return on Investment (SROI). She has been liaising with Professor Duro Oni, Dean of the Faculty of Arts at the University of Lagos, who has agreed to support and supervise her project and having access to Professor Oni's ongoing project with the Open University in the United Kingdom to build a multimedia archive of all Nollywood films and related literary materials.
Faruk Lasaki spoke on the making of Changing Faces after the screening. The film critics praised the exceptional quality of his movie which they rated above the other movies in Nollywood. They wanted the movie to be shown at the various cinemas in Nigeria.
Hope Obioma Opara, President of the film festival and the Founder/Festival Director Ekenyerengozi Michael Chima were happy with the impressive turn out and agreed that with more sponsors the EKOIFF will attract more international filmmakers and tourists to Lagos for the benefit of the Nigerian film industry and boost tourism.
The five days film festival continues tomorrow Sunday with the African premiere of Emmanuel Itier's multiple award winning spiritual documenatary "The Invocation" narrated by Sharon Stone, the famous Hollywood actress of the Basic Instinct fame.