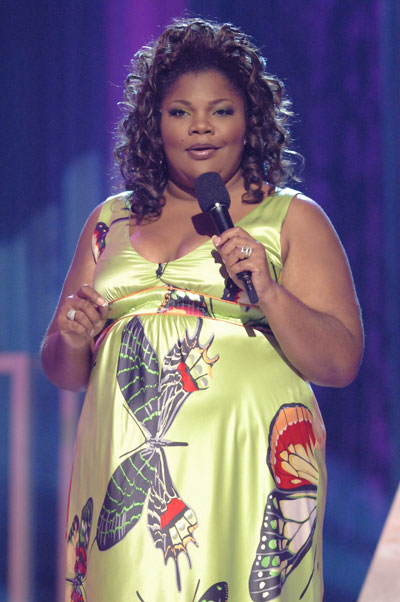 16 Mar 2010 00:37 Africa/Lagos
Next Up On 'THE MO'NIQUE SHOW'….
NEW YORK, March 15 /PRNewswire/ — It's getting hot in here! BET's queen of late night, Mo'Nique, is cranking up the heat with another exciting week of must-see celebrity interviews and sizzling musical performances. The recent "Best Supporting Actress" Academy Award® winner is in high gear and ready to knock viewers off their seats. Check out Mo'Nique showcasing her talent and interviewing the hottest stars weeknights at 11:00 p.m.* on BET.
BET Networks' #1 late night show, THE MO'NIQUE SHOW keeps the late night party going. From A-list celebrity guests to sizzling performances by the hottest musical artists in the game, Mo'Nique delivers viewers a fun-filled hour of entertainment. Here's a look at what's ahead on THE MO'NIQUE SHOW.
THIS WEEK ON THE MO'NIQUE SHOW
Monday, March 15
Cast of Showtime's "Soul Food"
Music: Donell Jones
Tuesday, March 16
Rochelle Aytes
Marcus Paulk
Music: Teairra Mari ft. Soulja Boy
Wednesday, March 17
Geoffrey Fletcher
Music: Maysa
Thursday, March 18
Roland Martin
Judith Jamison
Performance: Alvin Ailey Dancers
Friday, March 19 (Repeat Episode)
Danny Glover
Jermaine Dupri
Music: Kurtis Blow & Furious 5
For more information about THE MO'NIQUE SHOW, please visit www.bet.com.
*All times ET/PT.
About BET Networks
BET Networks, a division of Viacom Inc. (NYSE:VIA) (NYSE:VIA.B) , is the nation's leading provider of quality entertainment, music, news and public affairs television programming for the African-American audience. The primary BET channel reaches more than 98 million households and can be seen in the United States, Canada, the Caribbean, the United Kingdom and sub-Saharan Africa. BET is the dominant African-American consumer brand with a diverse group of business extensions: BET.com, a leading Internet destination for Black entertainment, music, culture, and news; CENTRIC, a 24-hour entertainment network targeting the 25- to 54-year-old African-American audience; BET Digital Networks – BET Gospel and BET Hip Hop, attractive alternatives for cutting-edge entertainment tastes; BET Home Entertainment, a collection of BET-branded offerings for the home environment including DVDs and video-on-demand; BET Event Productions, a full-scale event management and production company with festivals and live events spanning the globe; BET Mobile, which provides ringtones, games and video content for wireless devices; and BET International, which operates BET in the United Kingdom and oversees the extension of BET network programming for global distribution.
Photo: http://www.newscom.com/cgi-bin/prnh/20070716/BETNETWORKSLOGO
AP Archive: http://photoarchive.ap.org/
PRN Photo Desk, photodesk@prnewswire.com
Source: BET Networks
CONTACT: Press, Tricia N. Newell of BET Networks, +1-212-975-8230,
tricia.newell@bet.net
Web Site: http://www.bet.com/