Tears of empathy flowed copiously for heart broken Chanda, the 12 year old heroine of the South African AIDS film Life, Above All as viewers were gripped by the heartrending film Tuesday morning in the Salle Debussy at the world premiere as an official selection of the 63rd Cannes Film Festival in the Un Certain Regard category.
Allan Stratton, 59, the author of Chanda's Secrets the young adult novel that was adapted for the film Life, Above All said he was already in tears when he saw only the rushes during the filming in South Africa.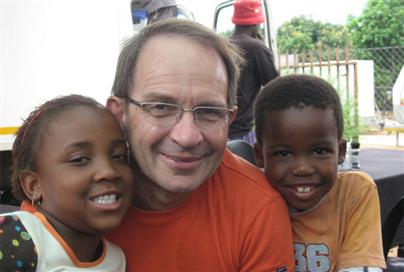 Allan Stratton (centre) Thato Kgaladi (Soly, the boy) and Mapaseka Matheba (Iris, the girl) on the set of film Life, Above All in South Africa.
"I wrote Chanda's Secrets to put a human face to the Sub-Saharan AIDS pandemic. It's a visually charged story that reaches audiences of all ages. A film version, created on location by South African director Oliver Schmitz, is a dream come true," Allan Stratton said.
Chanda's Secrets has won many prizes since 2005, including the Africana Book Award, Michael L. Printz Honor Book award and a finalist for the Prix Sorciere of France and it has been translated into over ten languages.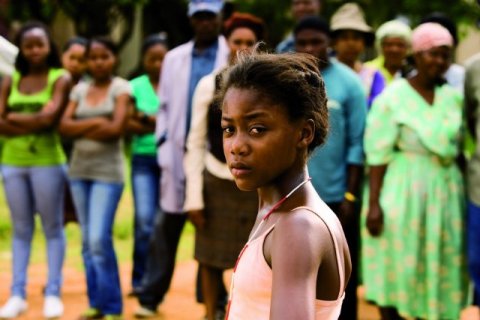 Life above All was directed by Oliver Schmitz, the South African director whose apartheid films Mapantsula and Hijack Stories have also been screened at the Cannes in 1988 and 2001.
"I think Allan Stratton found a very good way of showing the impact of AIDS in South Africa," said Schmitz.
"Although the main story remains the same, many little changes were made. Allan Stratton's novel is located in Africa, but we have tried to remain very specific in terms of language and culture. For me, this sort of detail is crucial because I want to be sure that I'm faithfully representing our universal history."
The author said he spent a month in Botswana to research for the facts.
"I knew what it felt like to lose a loved one and what AIDS panic looked like, but I did want to see what was different. In Africa, instead of attacking a subset of society, it's attacked entire societies. Two things I didn't expect: Internet cafés everywhere, and the joy in people. When you watch the news, you see people in postures of despair and flies buzzing around babies and glassy expressions. But the truth is that there is so much fire and laughter and joy. It made me think of how resilient people are and how, against probability, there are people who are able to grow and thrive — and that's the story of Chanda, "
Chanda's Secrets was produced by German filmmaker Oliver Stoltz whose chance meeting with Allan Stratton during a reading tour in Germany in 2005 led to the film adaptation of the novel.
SYNOPSIS:
Nothing is more contagious than lies
Just after the death of her newly-born baby sister, Chanda, 12 years old, learns of a rumor that spreads like wildfire through her small, dust-ridden village near Johannesburg. It destroys her family and forces her mother to flee. Sensing that the gossip stems from prejudice and superstition, Chanda leaves home and school in search of her mother and the truth.
CREDITS
• Oliver SCHMITZ – Director
• Dennis FOON – Screenplay
• Bernhard JASPER – Cinematography
• Christiane ROTH – Set Designer
• Ali N. ASKIN – Music
• Dirk GRAU – Film Editor
ACTORS
• Thato KGALADI – Soly
• Keaobaka MAKANYANE – Esther
• Harriet MANAMELA – Mrs Tafa
• Khomotso MANYAKA – Chanda
• Mapaseka MATHEBE – Iris
• Tinah MNUMZANA – Aunt Lizbet
• Lerato MVELASE – Lillian
• Aubrey POOLO – Jonah
The story:
Chanda, 16, is a smart and determined South African girl on track to win a scholarship – but she's suddenly thrust into an impossible situation, forcing her to adopt maturity beyond her years. When we first meet her, she's making funeral arrangements for her year-old sister, Sara. If people begin to suspect Sara's death was due to more than a passing flu, Chanda will be faced with shame and stigma, not only for the victim, but also for their entire family.
When Lilian's (Chanda's mother) illness becomes impossible to hide, their nosy, eccentric next-door neighbor, Mrs. Tafa, engages a spirit doctor to perform a startling ritual. The spirit doctor determines that a curse is hanging over her and her children. In order to lift it,
Lilian must return to the village from where she was banished decades before, leaving Chanda alone to care for her siblings.
Meanwhile, Chanda's best friend, Esther, has turned to prostitution in a desperate attempt to survive and reunite her own family. Though the community shuns Esther, Chanda refuses to reject her friend. To the horror of those around her, Chanda opens her house to Esther at her friend's moment of greatest need. That's just the beginning of Chanda's fight against convention.
When Chanda discovers that her mother may have gone away to die in order to spare her children shame, she ignores the cautions of the meddling Mrs. Tafa, and embarks on a fateful journey to bring her mother home. And in doing so, challenges the people around her to reject their prejudices and embrace the truth.