Two African films, Outside the Law from Algeria and Life Above All from South Africa are among the 9 films that will advance to the next round of voting in the Foreign Language Film category for the 83rd Academy Awards. They were selected from 66 films that qualified in the category.
Notably is Rachid Bouchareb's "Outside the Law," the French-Algerian film that annoyed French Prime Minister Nicolas Sarkozy's political party, who wanted the film banned at the last Cannes Film Festival, because "it denigrates France and the French military."
"Outside the Law", tells the story of three brothers who fought for Algeria's independence from France after World War II. After losing their family home in Algeria, three brothers were scattered across the globe. Messaoud joined the French army fighting in Indochina; Abdelkader became a leader of the Algerian independence movement; whilst Said moved to Paris to make his fortune in the shady clubs and boxing halls of Pigalle. Gradually, their interconnecting destinies reunited them in the French capital, where freedom is a battle to be fought and won.
"Life, Above All" an emotional and universal drama about a young girl who fought the fear and shame that have poisoned her community. It was directed by South African filmmaker Oliver Schmitz who adapted the international award winning novel "Chanda's Secrets" by Allan Stratton.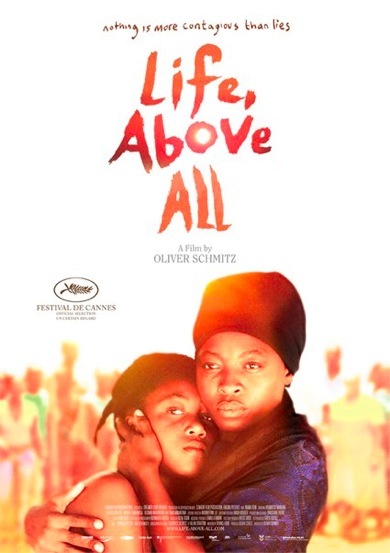 Chanda, 16, is a smart and determined South African girl on track to win a scholarship – but she's suddenly thrust into an impossible situation, forcing her to adopt maturity beyond her years. When we first meet her, she's making funeral arrangements for her year-old sister, Sara. If people begin to suspect Sara's death was due to more than a passing flu, Chanda will be faced with shame and stigma, not only for the victim, but also for their entire family.
When Lilian's (Chanda's mother) illness becomes impossible to hide, their nosy, eccentric next-door neighbor, Mrs. Tafa, engages a spirit doctor to perform a startling ritual. The spirit doctor determines that a curse is hanging over her and her children. In order to lift it,
Lilian must return to the village from where she was banished decades before, leaving Chanda alone to care for her siblings.
Meanwhile, Chanda's best friend, Esther, has turned to prostitution in a desperate attempt to survive and reunite her own family. Though the community shuns Esther, Chanda refuses to reject her friend. To the horror of those around her, Chanda opens her house to Esther at her friend's moment of greatest need. That's just the beginning of Chanda's fight against convention.
When Chanda discovers that her mother may have gone away to die in order to spare her children shame, she ignores the cautions of the meddling Mrs. Tafa, and embarks on a fateful journey to bring her mother home. And in doing so, challenges the people around her to reject their prejudices and embrace the truth.
The 9 films, listed in alphabetical order by country, are:
Algeria, "Outside the Law"), Rachid Bouchareb, director;
Canada, "Incendies," Denis Villeneuve, director;
Denmark, "In a Better World," Susanne Bier, director;
Greece, "Dogtooth," Yorgos Lanthimos, director;
Japan, "Confessions," Tetsuya Nakashima, director;
Mexico, "Biutiful," Alejandro Gonzalez Inarritu, director;
South Africa, "Life, above All," Oliver Schmitz, director;
Spain, "Tambien la Lluvia" ("Even the Rain"), Iciar Bollain, director;
Sweden, "Simple Simon," Andreas Ohman, director.