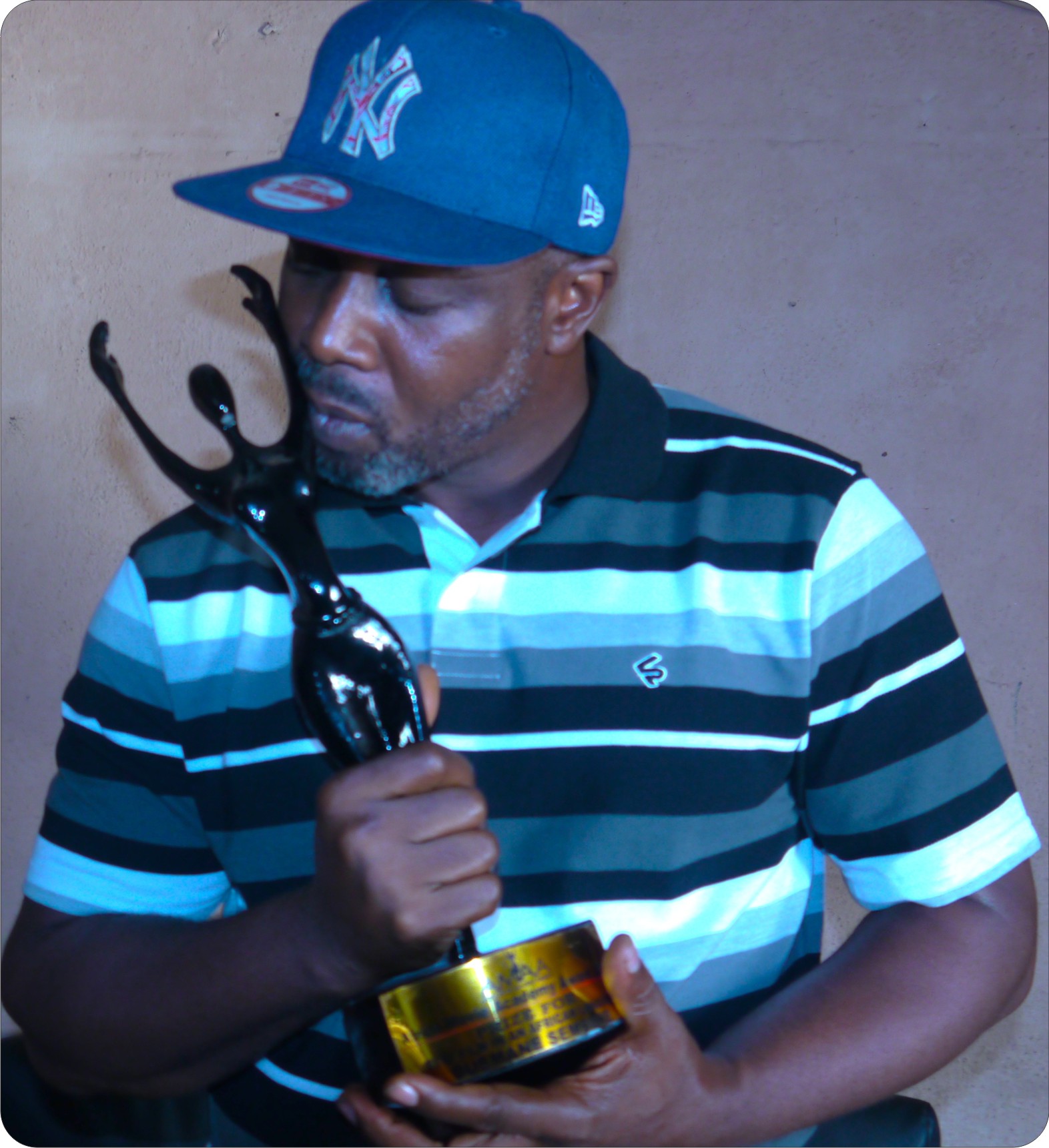 Winning the Sembene Ousmane Best African Language Film in the last African Movie Academy Awards (Amaa 2016) was a great honor and gloriously amazing.
This is the greatest blessing I've received as a filmmaker because of the name tagged to the Award "Sembene Ousmane" the father of African Cinema, so to me a new mantle has been handed over to me, to continue in the stride of this great filmmaker.
I remember what Elijah told Elisha in the bible, that if you see me when I'm taking off, that you will receive the double portion of my anointing. So receiving this award is equally the double portion of Late Sembene's filmmaking anointing.
For those of us who don't know the man called Late Sembene Ousmane, he was a man with great track record in terms of cinematic achievements in Africa Cinema, he won several awards and the last I could remember was "Certain Regards" in Cannes film Festival 2004 with his last film titled: Moolaade and he lived a fulfilled life, died at the age of 92.
Late Sembene Ousmane was a man I respect so much from Senegal, though I'm a disciple of Jibril Diop Membety, another rebel filmmaker from Senegal, a friend of Martin Scorsese, another mentor.
"The Missing God" was nominated for best Igbo language movie at African Magic Viewers Choice Award [AMVCA 2016] and we've had the privilege of screening at Luxor African Film Festival Egypt, CAMIFF and Black Cinema of Berlin and to mention but a few.
This is not the first time my movie is winning an award, in 2009 I had the jury's special mention prize for my film Trapped Dream during Cinema Africano De Verona Italy.
It's my desire to get more accolades because that's the only thing that will separate my art from the crowd, for many are called but few are chosen and I've always learnt to carve a niche for myself.
Finally I want to thank the Amaa Team, the Jury, most especially His Excellency Goodluck Jonathan for supporting the Nigeria movie industry through project Nollywood Act, where I got part of my funding for this film project "The Missing God" and to all my cast & crew for working tirelessly for the progress of this project and my humble wife for believing and supporting my filmmaking career.
DIRECTORS LETTER OF INTENT
MISSING GOD offers the viewer the possibility to reflect on injustice, accountability, faith and redemption. Our point of departure in the writing process was reality. For example, the story of colonialism and slave-trade that devastated Africa in the 18th centuries inspired the concept of Missing God.
As filmmakers, we are drawn to upheavals that strike the cords of global public debates on ethics and responsibility. MISSING GOD should evoke an inner dialogue and, ideally, leave an indelible mark of western imperialism etched on the soul of the viewer. Our Intention is not to illustrate the injustice done to us Africans during the era of colonialism and slave-trade but the power of African religion, culture and traditions.
In this project we firmly reject exoticism, which focuses on the differences between people and their cultures and which thrives on clichés and prejudices. We believe in a respectful dialogue between cultures, which is linked to an introspective dialogue with our respective pasts
Embarking on this film project is a form of reflection on what the western press or historians have reported or written about Africa.
I have always wished for that moment when we Africans will start telling our stories, because the western press has tampered with our history. In the course of my research for my documentary film project on the origin of the Igbos, I stumbled upon factual in-formations that contradicted that of the western press, so who do I believe, my people or the western press? Today so many of us are ignorant of this fact because not every-one of us has such privileged information.
Many negative things are often propagated by the Western press against Africa and remotely many Africans are made to believe that there's nothing positive about them.
Hegel a great philosopher of the German Idealist tradition excludes the black as people with full consciousness and he concludes that Africans have no history because they lack full development of their consciousness and are ignorant of their freedom and as such have made no contribution to human development.
To a great extent, I believe that we Africans have not recovered from the devastating effects of slave trade and colonialism even to this present day, which was part of European cruelest legacy on the African continent that has contributed to our confused sense of identity.
Today in our various African societies, there's this lingering inferiority complex among we Africans and there's need to fight against it.
Our traditions and cultures are seen as barbaric and outdated because of what the colonialist taught us, with the believe that Africans will never get to the point of self-realization. And this has made us to seriously embrace the western culture to the detriment of cultural identity.
Africa is a beautiful continent filled with fascinating sights, sounds and cultures. Some of these have been lost or endangered as a result of the influx of the western culture. Presently, many Africans answer foreign names they do not know their meanings. For us Africans, names are a part of our identity. A name tells a lot about the person who bears it. This means that a name carries along side with it a personality, an identity and in fact, a destiny. This is why within the African society much care is taken in naming a child. Africans do not just name their children carelessly but take time to study the situation and prevailing circumstances of the time before they give a name to a child. There is the belief that names carry along with them the tendency of influencing the bearer to good or evil.
Africa of antiquity has been a centre of attraction for many. The great civilisations of the world began in Africa. This was the reason why ancient philosophers and scholars visited Africa to develop their philosophical doctrines. Izu Onyeocha writes that Africa was an intellectual Mecca to European scholars in antiquity.
As I conclude this reflection, let us remember that our past was indeed glorious. Missing God Film Project was born out of the desire to preserve the culture of our people, it is said that within the culture of a people, lies their identity, if we lose our culture we have lost our identity.
Some of the Africans in the Diaspora don't know what the culture of their people is like but through this film project; they will be afforded the opportunity to know more about their culture and the untold story of western invasion across the Niger.
Africa is one of the continents with a very strong cultural heritage. And there is need for us to keep visual documentations of our traditional beliefs, culture and history for this present generation and generation to come since culture is considered as people way of life.
MISSING GOD is not a film about Colonialism and Slave-trade but a film about the core value of African Tradition, Culture and Religious belief. It is not the appropriation of exotic imagery packaged for consumption by another. It is, first and foremost, the result of a long journey inwards where we examined our presumptions and rummaged through our archives of experiences, all the while searching for revelations.
In conclusion, according to research, the best form of communicating tool is through film-making, which is a catalyst for positive change.
Joe Brown Ubaka