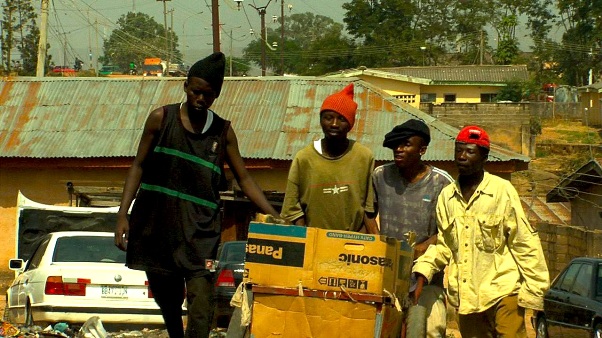 A scene from "Lilies of the Ghetto"
The Nigerian Nouvelle Vague Cinema is the Cinema of the moment…says Ubaka Joseph Ugochukwu, whose award winning feature Lilies of the Ghetto is one of the notable Nigerian films expected to draw crowds at the second Eko International Film Festival (EKOIFF) opening on Saturday July 9, at the prestigious Silverbird Galleria on Victoria Island, Lagos.
Lilies of the Ghetto represents a new tendency among the Nigerian film industry and film directors who apart from Nollywood begun to develop a high quality cinema, accessible to a worldwide audience..
Now film professionals are gradually producing quality movies, despite the the financial challenges that are obstacle to certain projects and its bringing about the long expected change from what has been termed low quality movies to a cinema that will acceptance in the global film market.
The synopsis
IJALOKO an ex-convict and a ghetto monster, abducts five kids from his neighborhood, JOHNNIE, SMALL, KONKOLO, FRYO and BOBO, he brainwash them in view of giving them a good life.
IJALOKO introduces them into using of hard-drugs thereby destroying their human conscience and making them menace to the society in order for him to achieve his selfish desires.
Five of these kids die one after the other at different occasion in a miserable ways except JOHNNIE the luckiest of them all.
Through LILY, Madam JET'S Daughter whom JOHNNIE is dating, JOHNNIE realizes the importance of education and good life.
JOHNNIE makes up his mind to quit gangsterism and return to school, but IJALOKO being the obstacle because of the vow that they've taken until death does them part.
JOHNNIE had no option but to kill IJALOKO in order for him to get a better life.

The director Ubaka Joseph Ugochukwu was born Born in Enugu, Nigeria. He studied political science at the Ahmadu Bello University, Zaria. After his graduation he moved to Lagos – the heart of home video production in Nigeria. In 1999 he and another young Pan African filmmaker in Dakar, Senegal, created a legal film association called Filmi Gët, and they started to produce films.