Ben Murray-Bruce
The 30th anniversary of the Silverbird Group is a great joy to the "Mr. Entertainment of Nigeria" Ben Murray-Bruce, the founder and Chairman of the Silverbird Group in Nigeria and abroad.
President Goodluck Jonathan of Nigeria was the Special Guest of Honour and joined hundreds of other invited guests at the New Convention Centre of the Eko Hotel and Suites in Victoria Island, Lagos,  the venue of the 30th Anniversary celebration Saturday evening. Party on the Moon from the United States of America and top Nigerian acts like D'Banj, Kaffy and the Sharp band thrilled the audience.
Silverbird brought the best African American musical acts to perform live in Nigeria from the early 1980s. Ben Murray-Bruce brought Kool & the Gang, Whispers, Shalamar, Dynasty, Lakeside and other popular acts. The Gong Show of Silverbird's Fantasy Night Club in Yaba was a live talent contest where Majek Fajek and other popular musicians were discovered in the 1980s.
Silverbird is most famous for the celebrated Most Beautiful Girl in Nigeria (MBGN) beauty pageant and discovered Darego Agbani who became the first black African Miss World in 2001.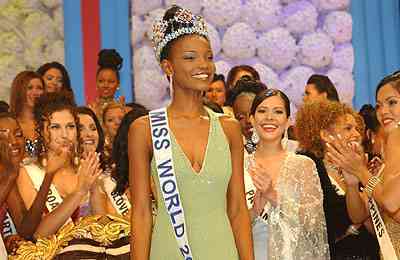 Darego Agbani became the Miss World in 2001.
Silverbird Group include Rhythm 93.7 FM stations, Silverbird TV network, Silverbird Cinemas in Nigeria, Ghana, Kenya, Zambia, Silverbird Galleria in Lagos, Showtime Mall in Port Harcourt, Silverbird Entertainment Centre (SEC) in Abuja, and other businesses in the conglomerate.
Congratulations to Ben Murray-Bruce, his family and the management of the Silverbird Group.