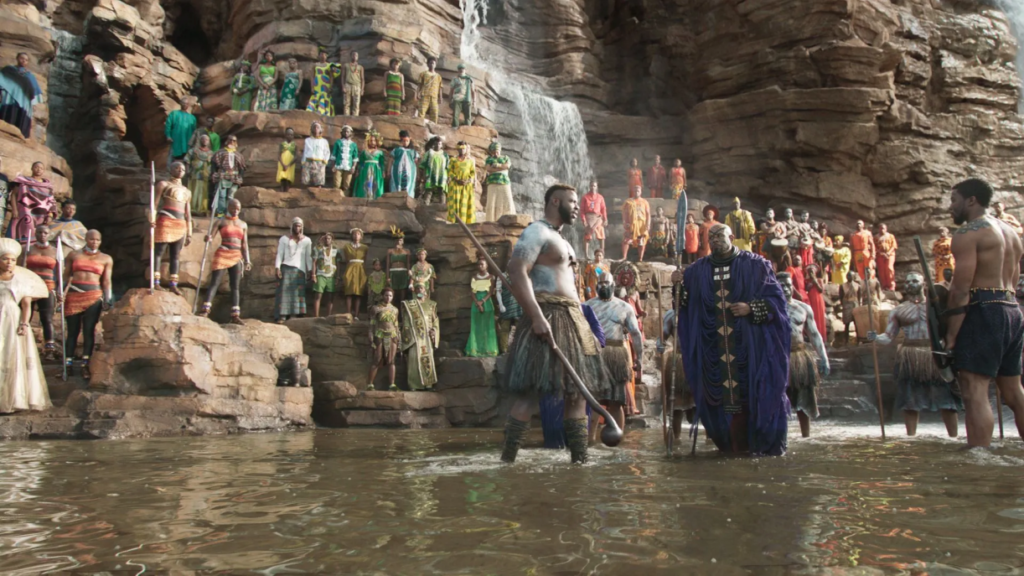 The  gorgeous Iguazu Falls, located at the Argentina-Brazil border. Coupled with the brilliance of Marvel Studios, the gigantic waterfall makes the place a worthy backdrop for such a grand superhero film
Was the waterfall in Black Panther real?
Footage for the Warrior Falls was filmed at the most spectacular waterfall system in the world: Iguazu While close-ups were captured on a soundstage at Pinewood Studios, most of the scenic visuals came from Iguazu.
Best Guided Tours to Iguazu
A boat ride or train ride or helicopter ride in Iguazu National Park are fantastic ways to explore the amazing waterfalls.
Full-Day Tour to Iguazu Falls

Iguazu Falls Tour, Boat Ride, Train, Safari Truck

Full Day Iguassu Falls Both Sides – Brazil and Argentina
This is one of the most popular tourist sites in South America, similar to Machu Picchu there will be thousands of tourists, but it is so spectacular it did not even bother me too much, I was in awe.
The Devils Throat (Garganta del Diablo)
The  Devil's Throat is the largest and most impressive of the falls at Iguazu. About half the Iguazu River's flow is forced through this 150m wide and 700m long fissure, dropping 80m with amazing power. Garganta del Diablo can be seen up close from Argentina's and Brazil's sides of the falls. Both are amazing and are two very different experiences.
Take the Train Ride to the Iguazu Falls
Inside the park catch the Ecological Jungle Train to the Iguazu Falls Train Station the start of the 2 main walking trails. The train is a quiet, natural gas-powered train that leaves close to the park entrance. It is a 25-minute train ride that runs along 14km of track through remote parts of the park to the station.
Getting to Iguazu Falls – Argentina
The Argentinian side of the falls can be reached by bus from the town of Puerto Iguazu. Buses run from the main bus terminal about every 20 minutes starting at 7 am. Travel time is about 40 minutes from Puerto Iguazu Bus to the Park.

IGUAZU FALLS ACCOMMODATION – ARGENTINA
On A Budget
Hostel Damaris – well-rated, budget option to visit the falls from Argentina and meet like-minded travelers.
Mid Range
Secret Garden Iguazu -excellent value for money, fantastic ratings.
Treat Yourself
Loi Suites Iguazu Hotel 5 star luxury, beautiful hotel situated in a jungle forest, close to nature, but with all modern comforts
Courtesy  Stingy Nomads