The Hidden Face of Suicide Trailer 2010-07-23 from Yehudit Silverman on Vimeo.
"The Hidden Face of Suicide" Premieres September 2 at Montreal's World Film Festival
Critically acclaimed documentary The Hidden Face of Suicide will premiere Wednesday September 2, at Montreal World Film Festival according to a news release by Canadian-based ID Communications Inc.
The film recently won Best Documentary under 60 min at the Heart of England Film Festival.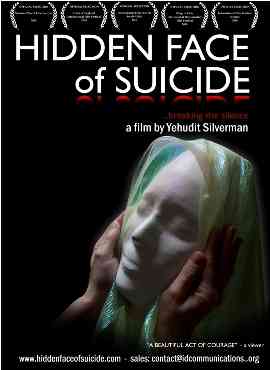 The Hidden Face of Suicide explores the taboo subject of Suicide. It was directed and produced by Yehudit Silverman. Focusing on the lives of suicide survivors, or those who must deal with the aftermath of someone who has taken their life, "The Hidden Face of Suicide" seeks to provide a voice for those whose lives are often shattered by the loss of a loved one.
"I am thrilled to have won an award for Best Documentary" says Ms Silverman about the Heart of England award. "This film has touched a deep chord with audiences where we have screened it, as most everyone knows someone or has been directly affected by a loved one's suicide. It's an honour to receive recognition, but I am even more pleased for the additional visibility to this issue as that is why I made the film in the first place – It comes from a personal experience of loss."
"This award comes at a good time for us, as we prepare for the North American premiere for the film at the Montreal World Film Festival. This is also very special as Montreal is where the film was produced" says Dan Shannon of ID Communications, who represents the film for international sales. "We will also be active promoting the film online in terms of niche marketing for DVD and Video on demand following the North American premiere", says Mr. Shannon.
The film has thus far been accepted in nearly half a dozen film festivals, with screenings at Montreal World Film Festival to take place on at the NFB Theatre, Sept 2 at 7:30pm and Sept 4 at 9:30PM.
The films trailer, more information about the DVD, and video on demand offers is available at http://www.hiddenfaceofsuicide.com
For press inquiries please contact martine@idcommunications.org
For international sales opportunities please visit
International documentary sales
# # #
About ID Communications Inc.
ID Communications inc. is a Montreal-based boutique film, television and web marketing company specialized in the area of international sales representation and distribution for film, TV, DVD and web-based properties.