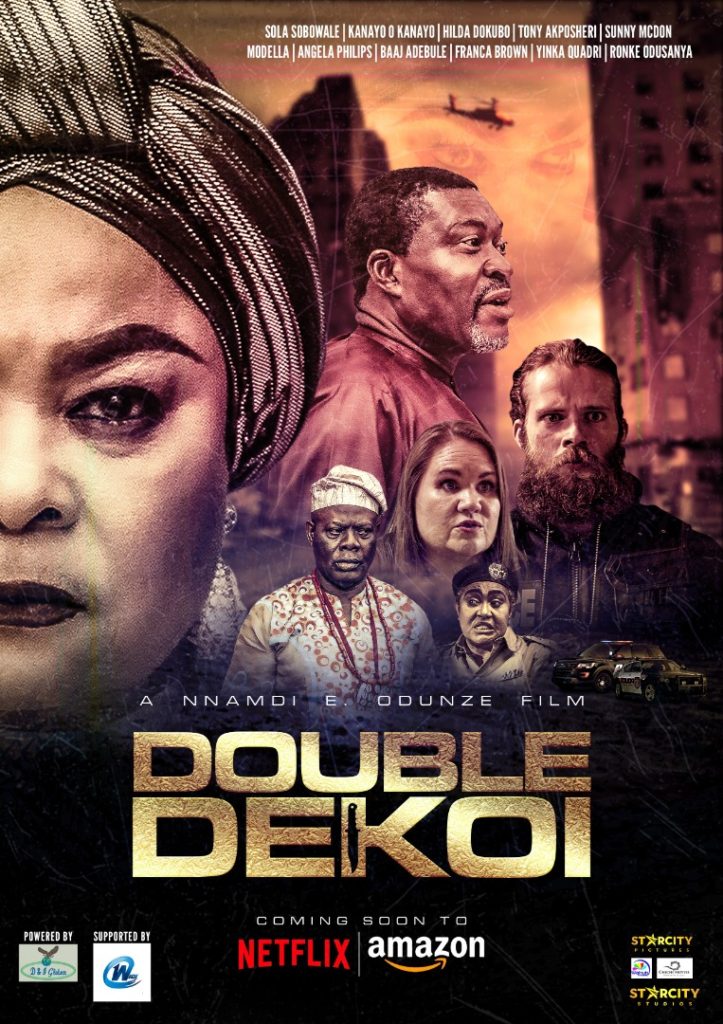 DOUBLE DEKOI SYNOPSIS:
Amanda (Abimbola ESTHER-Modella BBN) visits her younger brother, Steve (Baaj Adebule), in prison to hear his side of the story. Steve has been convicted of murder and sentenced to life imprisonment. After listening to his brother's story, Amanda realizes it is a set up by the same organization that killed her father. StarCity Properties Ltd is an Estate Development firm on the outside. But on the inside, the company engages on illegal activities like drug and human trafficking. When Amanda's father realized what the company was really about, he threatened to go to the police if they don't stop. StarCity Properties Ltd had two choices, either to disengage from its criminal activities or remove Mr. Bankole from the face of the earth. They chose the latter. Now, StarCity Properties Ltd is a criminal organization ran by the blood thirsty Madam Seggy(Sola Sobowale), whose only daughter(Ojumu Christiana-ChristO BBN) is a renowned Police Inspector, Betty. Now, there is a potentially incriminating documents Mr. Bankole hid somewhere before his demise. StarCity Properties Ltd want that recording by all means. That is why they set up Bankole's only son, Steve, hoping to propose a deal to the young man in exchange for his freedom.
Convinced that her brother is innocent, Amanda decides to infiltrate the Double Dekoi (StarCity Properties Ltd). She sends her mother(Franca Brown) to Abuja and joins her cousin, who lives in the ghetto. Amanda recruit her cousin, Jaspa(Nwekete Bright Chidi-BBN) and the funny Flecky (Seyitan Adeyemi). And together, they infiltrate the Cartel, in search of evidence that could set Steve free. "DOUBLE DEKOI" is intriguing, hilarious. Action packed and suspense- filled. But above all, the lessons are priceless.
Also starring
Kanayo O Kanayo as Don Malaika
Hilda Dokubo
Tony Akposheri
Angela Phillips
Leon Slaboh
Ronke Odusanya
Yinka Quadri
Sunny McDon
Elliel Otote and others
ABOUT THE DIRECTOR NNAMDI ODUNZE
You must have heard about the multi-million dollar star studded film Double Dekoi. But you may not have heard about the director behind it.
Nnamdi E Odunze is n ot new in the Nigerian film industry . he started his entertainment career at The Nigerian Television Authority (NTA), trained as a core Script Supervisor & Director by the best hands on television and films.
He created the first reality TV show in Nigeria after the Big Brother Africa in 2004,"Next Nollywood Star" a TV Talent Hunts Show. He has directed over a dozen movies/TV programmes. He has also packaged and managed several premiere deals for Nigerian international Diaspora filmmakers.
Odunze has a vast knowledge of organizing road shows of any standard.
He has to his credit, Assistant Director: "Sakobi Returns" (A ZebEjiro Production), Director: "Adaeze" (1st Igbo soap opera in Nollywood), Director: 'Enu Ofe'(Igbo soap opera), Director: 'Crossed Road'(Golden Pyramid Productions Ltd.), Director: 'Comfort Zone'(Golden Pyramid Productions Ltd.), Director:
'Adamma '(FAD Productions Ltd.), Director: 'Ikpe Omuma' (TV Series-Golden Pyramid Productions Ltd./Africa Movie Magic), Director: 'Secret Pain'(TV Series-Golden Pyramid Productions Ltd./Africa Movie Magic ),Director: 'Diary of a Hood'(Heavy Metal Studios Ltd.), 1st Assistant Director 'Sweet & Sour' (ZebEjiro Productions (on The NTA Network Service), 1st Assistant Director & Script Supervisor: 'Mortal Sin' (ZebEjiro Productions Ltd), Assistant Director: 'Extreme Measures' (Zeb Ejiro Productions Ltd), Director: 'Ice Cold' (MacMillan Productions), Director: 'Sweetest Goodbye' and 'Paradise of Shame' (Monarch Productions), Production Designer & Script Supervisor:
Slave Masters'(New-Vision Productions, London), Producer: A Queen For Domingo(A Live Musical Drama Makeli Multi-media Productions Ltd), Assistant Director: 'with God' (O'King Productions Ltd.),Unit Director: Black Night In South America(African Oasis Productions, Brazil ), etc.
In the last few years, Odunze has established good reputation in producing and directing movies, organizing and management of events, stage plays in partnership with Nigerian Television stations.
Nnamdi's experience spans beyond theatre and the shores of Nigeria as he can be considered as a world Citizen by being involved in productions "12 Ayilara Street (on tour) in the Republic of Benin by the Embassy of France/French Cultural Center (Lagos –Nigeria) and the Republic of Togo.
This flowing experiences made it easy fir him to gather top veterans like KOK, Sola Sobowale, Hijda Dokubo and a host if others in the criss cultural feature film Double Dekoi.
NnamdiE. Odunze is the creator of"Millionaire's Mansion" reality TV shows.
Nnamdi E Odunze is happily married to his beautiful wife and blessed with lovely children.