Uncharacteristically Loving
I was taken back when I saw the film "Expecting Mary" a few weeks ago because the characters were so uncharacteristically loving. In our culture today everything is about "what can I get" and "what can I give" only seems to arise when we remember we want to go to heaven or become more enlightened for reincarnation. The film and its characters display an unconditional sense of community, love, and non-judgment that has kept me very present to how I was loving/treating others.
Bridget Nielsen on Sep 01, 2010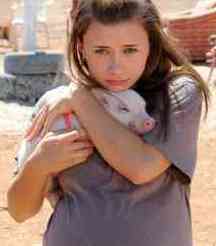 The award winning romantic family movie Expecting Mary starring popular Russian American actress Olesya Rulin, aka piano player Kelsi of the High School Musical fame will premiere in Tennessee on September 10, 2010.
"Expecting Mary is the story of a young girl, who's had all the trappings of an upscale life, but it's only when she finds herself in a small New Mexico town, in a downtrodden trailer park, that she learns the real meaning of love, sacrifice and family, " said Dan Gordon, the director.
Bridget Nielsen of Modern Mom said Expecting Mary has taught her more lessons on how to love and treat others as shown by the unique unconditional love of the personalities portrayed in the film.
Expecting Mary will also be playing at the following locations:
Clarksville 16
Clarksville, Tennessee
Rocky Top Cinema 10
Crossville, Tennessee
Roxy 8
Dickson, Tennessee
Roxy 10
Lebannon, Tennessee
Thouroughbred 20
Nashville, Tennessee
Malco Roxy
Smyrna, Tennessee
Hollywood 27
Nashville Tennessee
www.facebook.com/expectingmary
www.twitter.com/expectingmary
www.expectingmary.com